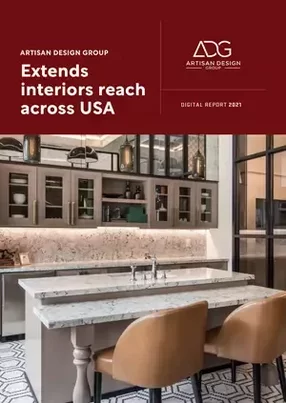 Artisan Design Group extends interiors reach across USA
Artisan Design Group CIO Delano Gordon reflects on 'urban flight' in the US and how physical and virtual solutions are providing a competitive edge
Artisan Design Group (ADG) prides itself on providing homeowners with a superlative finished product – but its story has been one of ongoing change and development.
From a flooring solutions provider serving the single-family and multi-family sector in 10 locations five years ago, it has grown into a national technology-enabled company with diverse geographic and sector coverage across 145 locations and 25 states.
The interior finishing company, which employs 3,100 staff, provides flooring, counter tops and cabinets, serves predominantly new construction single-family homes, multi-family apartment complexes and replacement segments. It deals with commercial spaces too, fitting out spaces for airports, hospitals, gymnasiums, and the hospitality sector, which is a smaller but growing part of the business.
Chief Information Officer Delano Gordon designs and executes the strategic direction for the $1 billion company – which involves dealing with 22 companies, or 'entrepreneurs' as he calls them, within the nationwide ADG portfolio.
"Well over two-thirds of our business is single family," he says. "We are starting to see a new trend in single-family homes for rent. I think it's the beginning of a permanent trend as home ownership in some areas is a challenge."
A critical link in the homebuilding process, ADG differentiates itself at critical phases of the process, from interior design selection and procurement/fulfillment to interior installation and Quality Control.
"Our diversity is one of our strengths," he said. "The 22 organisations have been pillars in their local communities for several decades, they're led by seasoned professionals and industry veterans.
"Our entire go-to-market strategy, unlike many competitors, is to allow them to remain as they are – they maintain their own branding – we simply support them in their endeavors to grow their businesses. Our light-touch approach centralises key functions like HR and IT and introduces new technologies – typically those things are challenges for small companies to manage."
He describes the market as 'very hot', fueled not only by COVID-related dynamics but industry buzz surrounding the Bipartisan Infrastructure Bill. 
"We're seeing significant 'urban flight' with younger millennials moving out to the suburbs, and a lot of demand for single household homes," he said. "The flight from urban to suburbs will continue to rural areas, as broadband availability improves, and people continue to work remotely. That will spur more homes and provide an opportunity to see an uptick in our business."
He acknowledges the pandemic has put a strain on its supply chain, however.
"The market is settling back down but it's impacted price, availability, and affordability. From a project management perspective, COVID has shifted everything. We have a backlog of work that can't be addressed as quickly as we'd like to."
He highlights TPx, which operates a wide portfolio of infrastructure services as a key partner for the last three years. 
"We're using them specifically for Infrastructure-as-a-Service and looking to expand our WAN and private cloud architecture. The 22 ERPs we have in place are difficult to manage and don't allow for a scaling ecosystem. We have initiatives underway to collapse that into a single ERP platform for the entire organisation. We're still going through that process work."
Originally, TPx formed a relationship with one of ADG's companies in Houston, and it has expanded the relationship to encompass the whole portfolio. "It's that ability to scale effectively which has helped us transition to TPx – they have capable resources able to respond as business dynamics require."
He added it is replacing an existing provider, after experiencing service disruptions and poor user experiences, and looking to modernise the organisation by transitioning away from some legacy equipment into a new state-of-the-art environment, which will be hosted by TPx. ADG does not mandate but encourages a hybrid work environment where it makes sense. It is taking a similar physical-and-virtual approach to business. While it has physical design centers in Dallas, Houston, San Antonio and Austin, it is embracing an online presence too.
Its Design Central virtual design centre portal enables customers to visualise interior finishes at home ahead of an in-person appointment; allowing customers to browse product offerings and compare costs on their own time. The valuable insight provided by the portal allows designers to efficiently serve more customers per day and customise product offerings more effectively, creating combined time savings, increasing throughput and higher-margin mix, driving growth and profitability.
"We're trying to alleviate some of the pressure, so customers can gain a perspective of all the details – the flooring, cabinets, colours, so they can visualise what their space will look like and place favourite combinations in their carts, so when they meet our design consultant, it shortens the appointment. By then, you're just concentrating on preferred products and consultants can coach through those selections."
Another innovation allows homeowners to put on VR Goggles in the centres, immersing them in that space where they can apply or change details. Depending how the market responds, we'll see how to branch out to other locations.

"We're seeing males are keen to put them on more, not so many women. Millennials and younger consumers are also more apt to try such things," he said.
"I expect the trend will continue. I liken it to purchasing a car online for the first time – and we'll see it more with homes gaining greater adoption following the pandemic with more people working remotely."
With environmental sustainability rising in importance, Gordon said it will explore more ways it can boost efficiencies. 
"While we don't maintain a large fleet of vehicles, we have considered, aside from reducing the need to travel to design centres, looking at regionalizing distribution and warehousing between locations so we can better leverage shared spaces" he said. 
"We have a lot of wide-open space in Texas. By improving road and rail there will be greater mobility and accessibility. There is now a working group looking at the feasibility of high-speed rail in the state."