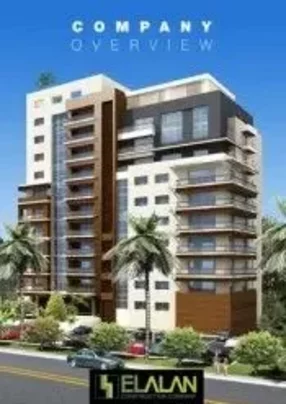 EL-ALAN Construction Company (Nigeria) Ltd
EL-ALAN invests in Nigeria and beyond to deliver quality design, build solutions and EPC Contracting...
EL-ALAN Construction Company was founded in April 1982 as a private limited liability company and today is one of the fastest growing and most dynamic construction and civil engineering companies in Nigeria.
For over three decades El-ALAN has delivered high quality integrated construction solutions. Its initial focus was construction works in the private sector and the company quickly gained a name for itself as a quality contractor. Its success and reputation today is built on the consistent delivery of quality, speed, efficiency and overall client satisfaction.
"We have been in the industry for 30 years and during that time have always put the focus on our clients," explains Andrea Geday, Managing Director. "We have perfected our craft over the years and our emphasis will always ben on quality over quantity."
Unlike so many of its competitors, EL-ALAN has weathered more than one economic recession and has come out the other side stronger than before. "We have survived all this time in part due to perseverance," says Geday. "We tighten our belts and focus on delivering a quality product, no matter how tough the economy. This has paid dividend on a number of occasions, because when the market picks up again, we have less competition."
EL-ALAN has also been incredibly smart when it comes to diversifying its product and service offering. "We have developed new complementary arms of the business including MEP building services, Property Development, Facility Management and Logistics," says Geday.
"We provide complete construction solutions. The majority of our contracts are turnkey projects. We are involved in each stage of the project, from architectural design, planning approval and construction. We also provide building maintenance and facility management solutions. This holistic approach delivers cost effectiveness, streamlines project management and shortens construction timelines.
"We have truly developed a one-stop-shop service whereby we can take a building from inception to completion, even down to details such as bathroom design," says Geday.
Not only does the company offer a complete turnkey solution, but it also has all the required core competencies in-house. EL-ALAN has a small database of trusted contractors, sub-contractors and suppliers with whom it has worked with for a long time. "This is extremely attractive to our clients," says Geday. "Everything is managed by us and us alone, which means there is nobody else to hide behind, no excuses. Every element of the project is controlled by us, which makes completion much easier."
Getting noticed
EL-ALAN clearly has the skill set required to build high-quality structures, however as Geday concedes getting the project in the first place is often the hardest part. In recent years this has been less of a hurdle for the business, which successfully completed a number of high-profile builds in the country. "Landowners and developers have started to sit up and take notice of EL-ALAN," he says.
"They recognise the fact that we have in-depth market understanding, good knowledge of the Nigerian economy and respect from the local business community. That counts for an awful lot."
Investing in Nigeria
But the company goes much further than supporting Nigeria and Nigerian business - it's investing in the long-term growth of the region too. "We have built our own vocational school to improve the skills of our employees and thus the quality of our work as a company. In Nigeria vocational schools are few and far between so next year we are opening our doors to the public and giving more people the opportunity to learn new skills," says Geday.
EL-ALAN is a proud advocate of Nigeria as a region and believes it has a very bright future ahead of it. "Nigeria has a lot of potential, the world is focusing on us. We have a young and dynamic population as well as a wealth of natural resources. Nigeria is a great place to do business, the market is growing and the future looks very promising," says Geday. 
That being said, the company is not going to halt at the countries boundaries. "We are looking to expand into Ghana and Kenya and possibly into Nairobi too in the next couple of years. We will replicate the Nigerian model, it has been very successful to date."
Looking to the future
The future outlook at EL-ALAN is robust. As a company there is passion running through its veins and every employee is dedicated to perfecting the craft of the business. Over the years, the company has invested heavily in its future by setting up schools, fine-tuning its supply chain and logistics, developing its core competencies and focusing on quality.
"We thrive on challenges that actively pave the way of progress. We operate on a 'can do' basis and have gained a reputation for creativity and innovation in devising solutions to problems that other contractors may dismiss as being too difficult. We always strive for progressive and competitive project solutions," says Geday.
The foundation is there, the company is now channeling its energy into becoming the best construction company in the region.
"We want people to come to EL-ALAN because they want the best service and end-result. We want to be the Bentley or Porsche of the construction world – we want to be a company where people don't come to negotiate on price, they come because they know what they want," concludes Geday.