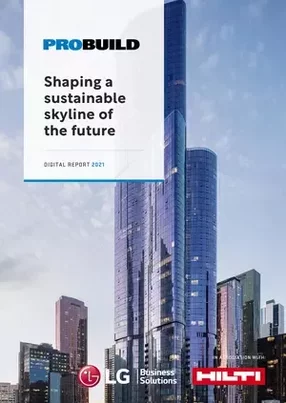 Probuild: Shaping a sustainable skyline of the future
Reflections of the past and present can be seen in the glass-clad constructions of Probuild as they create a legacy across the Melbourne skyline
You could say stepping on his first nail on site at the age of four while accompanying his father, a commercial builder, shaped the future of Alexei Simm who is now a Project Director of Probuild Constructions in Melbourne.
It is with a sense of pride Simm talks to Construction Magazine about how he is helping to redefine the skyline of the southern Australian city he grew up in, and how this is being done with a focus on creating a sustainable future for his children.
Speaking from his home office, which he naturally built, Simm outlines his visionary role with Probuild, one of Australia's largest construction companies with a national pipeline of projects worth AUD$5 billion and an annual turnover of more than AUD$2.0 billion. 
As a Tier-one contractor Probuild has worked on landmark buildings which include Aurora Melbourne Central, The Towers and Ritz Carlton at Elizabeth Quay in Perth, MLC Centre in Sydney and The Greenland Centre in Sydney. 
Founded in 1987 by entrepreneurs who've never let go of their family roots, they were determined to be recognised as the go-to  'professional builders' in the country. Today, they employ 850 people and have delivered projects across residential, Build-To-Rent, commercial office, education, retail, pharmaceutical and health and built more than 1 million square metres of retail construction across the country.
"I am a big believer that building for the long-term is a professional endeavour, not just anyone can do it" commented Simm.
New gold rush of buildings for Melbourne 
Simm is keen to focus on the developments re-shaping the Melbourne skyline which comes on the back of a new government planning policy that limits many more skyscrapers being built in the former gold rush city for a while at least.
"This means Probuild will have built a number of the tallest buildings in the CBD," said Simm who, as all Melburnians, has endured six lockdowns and more than 267 days under restrictions during the pandemic but has still managed to keep building with his dedicated team.
However, this focus on living and working from home is forcing the five million Melburnians to view real estate with new eyes as they plan a sustainable future of hybrid working - but unlike other cities many are keen to stay in the city. 
"There is not such an emphasis to move into the suburbs, but development activity is changing as we capitalise on opportunities to turn Melbourne into a 20-minute city to live in, work in and shop, with easy access to public transit, universities and more" said Simm who points out the shimmering UNO Melbourne residential tower is the new landmark on the city skyline.
Probuild restored the existing heritage façade of UNO Melbourne which will provide 630 homes in the sky along with a two-level basement back to ground level to the building. The development will create community focused amenities including a café, community childcare centre and mixed-use retail spaces on levels 1 and 2.
Current projects Probuild is working on include:
Victoria University City West Tower
Probuild's first vertical campus - and Australia's tallest vertical education campus at 29 levels - demonstrates how a new building can seamlessly integrate with pre-existing heritage. This project will provide Victoria University with a means of expanding their CBD presence to deliver industry best learning spaces.
Elizabeth North Stages 1 and 2, with CSL headquarters
Innovative, mixed-use project for Melbourne's education and biomedical precincts.  Stage 1 is an eight-storey commercial building (plus two basement levels) featuring a combination of heritage-listed and contemporary architecture.  This stage will become an innovative vertical campus for Trinity College and will also be the home of Toyota's new flagship Melbourne City dealership.
Stage 2 was initially conceived as a conventional high-end commercial office development, until a lease pre-commitment was secured with CSL, the leading global biotech company.  A bespoke design comprising corporate and administration areas, as well as pharmaceutical research and development laboratories, clean-rooms, certified physical containment spaces, and small-batch production facilities has been added to Probuild's scope as an integrated fitout, transforming this build into one of Melbourne's most highly complex and serviced buildings.  When complete, more than 58,000m2 of gross floor area will be provided across 23 storeys, including three basements.
Caulfield Village Precinct 2 North
Melbourne's premier Build-to-rent (BTR) project has eight buildings and combines a total of 437 apartments.
This BTR development will feature high quality and expansive residential amenities including outdoor area decking and barbecue, pool, spa, sauna and a children's playground.
High-tech glass 
"We are known here in Melbourne to have four seasons in one day so it's a challenging environment to build in," commented Simm. "It's become fashionable to develop residential buildings with curtain walls, as opposed to balcony configurations, so it is important the glass facades need to perform. It needs to keep the heat out during summer and the heat in during winter.
"There's a lot of very high-tech glass coatings and technologies being employed and adopted on our buildings. We have been working closely with Taiwan Glass Group, especially on Aurora Melbourne Central, which is the largest building in the CBD," said Simm.
Melboune's architectural history is quite rich. "There's this preservation of the old - although modern Australia is not an old country – and a contrast with the new; in a way it's almost as if the new has to try harder.  Some of the jobs we've done have used glass which is warm browns, hot pinks and bright greens.  Aurora is made up of five different shades of magenta," said Simm, who confessed he was a traditionalist and likes to work with blue glass on his skyscrapers.
A move away from balconies is changing the focus of air-conditioning technologies. "As apartment buildings have become taller, balconies have become less usable due to windy conditions. If you have no balconies, you've got nowhere to put the outdoor part of your air conditioning unit. There's been a big shift towards a hybrid of part-centralised and part-localised air conditioning systems. Variable refrigerant volume cassette systems have become quite prominent in the residential high-rise market, as a result."
Digital twins and 3D modelling
As design and construct builders, Probuild extensively uses 3D modelling which has evolved into digital twins.  Simm pointed out the benefits of this new way of envisioning the process to efficiently deliver a higher level of quality in the final build. They have incubated a technology company that's working on low-energy bluetooth technology to be able to track work on the construction site in real time.
"Our digital twin technology gives us the ability to integrate the design and allows us in real time to track construction progress." said Simm who pointed out Probuild is always looking at innovative technology to improve working practices.
He highlighted the use of networks of digital display screens up and down a 90-storey tower during construction, to help the team.  "This is simple and effective, allowing us to send messaging up and down to the workforce and direct them to the nearest construction hoist, or delivery of materials to the floor.  This underpins our site efficiencies, logistics, and also an engagement with the workforce that leads to more productivity, safety, quality, and continuous improvement. It's also a bit of fun to see hoist movement reflected in real time."
On the subject of how technology has improved safety Simm pointed out how Probuild used bluetooth sensors on the Victoria University project.
"We combined some of our physical bluetooth sensors with our high-rise perimeter screens so that they were able to tell us the condition of those screens in real time, and to make sure that they were closed for safety. That was linked to a digital dashboard which would send an alarm if there was a gap in a screen.  We think there's a huge amount of application in all of the things that we can track and monitor with a dashboard linked to real time safety equipment."
Connectivity within buildings
As WiFi has become a lifeline for almost everyone during the pandemic - for work, education and health - Probuild prioritises communication technology within its buildings.  Distributed Antenna Systems (DAS) ensures good mobile phone coverage within their building.
"Australia embarked on a huge modernisation programme for broadband fibre connectivity across the whole country.  That has taken a form of fibre into every major development and to ensure the vast majority of the population have access to high speed broadband.
"A job I recently completed at Aurora Melbourne Central, we worked with the semi-government entity NBN Co as they have been doing the roll out of the fibre network, which at the time was their largest standalone building to incorporate that network, which involved all sorts of learning exercises."
Sustainability of skyscrapers
Simm points out how Probuild will be focusing on their net-zero targets with sustainable building programs which move away from Melbourne-typcial insitu concrete structures to more hybrid girder beams, steel frames, laminated engineered timber structures, and more sustainable construction materials in the future. The company is now formally offering an integrated facilities management service to its customers, adding meaning to selection of materials and systems for Whole of Life impacts. 
"The buildings that Probuild shapes and builds will have a long legacy. We are passionate about recycling and waste minimisation in all our operations and all buildings are now being built to perform better.  As standards evolve, building tolerances are tighter and their facades need to cope with wide ranges of external conditions and maintain comfort without relying solely on electricity to run air conditioning and heating systems.  We have recently coupled our capability with an inhouse facilities management business unit to ensure our clients can realise operational sustainability goals after construction has been completed. 
"Although the operations of our completed buildings are becoming more efficient, the big challenge, particularly in Australia, is the traditional ways of building high-rise in our market, which is largely in-situ concrete structure frames, and obviously cement which has a very high carbon footprint.
"In Melbourne we can have up to 100 stories of reinforced concrete, but if you compare this to cities like New York who build skyscrapers from girder beams and steel frames these have a different energy footprint to the concrete volumes we use," said Simm who pointed out Probuild is a member of the Green Building Council of Australia. 
"For me this would be a half-way step towards greener buildings.  The next one, which we're starting to see in the market, is the use of more sustainable materials and systems for use in multi-storey buildings." 
As Probuild continues to shape the skyscape of Melbourne we wait to see these new developments on the horizon.
The foundations of success - strong partnerships
Hilti
Hilti designs and manufactures leading-edge technology, software and services, which power the professional construction industry including Probuild. The company, which is based in more than 120 countries and has more than 30,000 employees, has supported awe-inspiring feats of engineering around the world – from the famous bullet train in Japan to tunnels deep under some of the largest cities on Earth.
Cited as the "one-stop-shop" for building, Hilti partners with Probuild to provide engineered fixings, bracketry support, tools and equipment - particularly for curtain walls. 
"Hilti engineers fastenings and support brackets for curtain walls of multi-story projects for us," said Simm. "This is one element you want to be 100% confident in and Hilti gives us that surety. "They have also partnered with us on our digital location technology through Ynomia to digitise tool sets and they are developing the ability to physically locate their  range of 'smart' tools."
Taiwan Glass Group
For 50 years Taiwan Glass Group has been dedicated to its philosophy of persistence of advanced technology and total quality control in order to provide high-quality products to customers such as Probuild. Their signature Super Clear Glass is made up of clear float glass by reducing its green tint and iron content to achieve optimum clarity and vision. The low iron content enhances solar heat transmittance.
Simm said Taiwan Glass was the supplier for the Aurora Melbourne Central - a 92-storey tower making it the tallest in the CBD. "They worked with us and the designers to create a custom-colour palette of high-performing glass. We enjoyed the experience of working with them and went to their production facilities - we are big supporters of their product."
Dow
Probuild enjoys working with Dow which it considers a key partner.
"Dow is the most trusted name in facade sealants and adhesives," said Simm. "It gives us a great deal of comfort to know that when we're sourcing critical facade components from multiple continents there's a constant which is Dow, their strong reputation and technical support.  We have a great relationship with Dow, in Australia and in China." 
LG
LG worked with Probuild on Aurora Melbourne Central - which was one of the largest jobs they had undertaken - to provide variable refrigerant volume multi-head air conditioning systems for the building.
Simm said: "If there is one thing we like to talk about in Melbourne, that is the weather and the temperature so it was very important to work with a partner like LG that could provide reliable mechanical systems.
"Aurora has more than 1,200 individual apartments and serviced apartments within the development, which are all cooled centrally by cooling towers, but locally using LG's technology.  We all worked closely to provide a product they were proud of, we were proud of and most importantly the owners were proud of."
NBN Co
NBN Co was established in 2009 to design, build and operate Australia's wholesale broadband access network. Underpinned by a purpose to connect Australia and bridge the digital divide, NBN Co's key objective is to ensure all Australians have access to fast broadband as soon as possible, at affordable prices, and at least cost.
"We worked with NBN Co on the Aurora Melbourne Central project.  At the time it was their largest standalone building to incorporate that network into," said Simm.
How the Hoddle Grid shaped Melbourne and CBDs around the world
When surveyor Robert Hoddle laid out the Hoddle Grid in 1837, he designed what would become Melbourne's signature: wide boulevards, alternating streets and smaller lanes, all laid out in a north-south grid across 1.61 km × 0.80 km.
The Hoddle grid forms the central business district of Australia's southern city stretching from Flinders Street to La Trobe north-south, and from Spencer Street to Spring east-west, inclusive.
Robert Hoddle, established the first formal town plan for the city when there were just a few hundred settlers - there are now five million who navigate these streets by tram or car every day.
Today, The Hoddle Grid is known worldwide for construction terms for the central grid of streets that make up the central business district of a city and defines the buildings that lie along them.
 
A life in the construction industry
Alexei Simm, Project Director of Probuild Constructions says...
If you could sum it up in one sentence - how do you see the future skyline of Melbourne evolving over the next decade?
More buildings of genuine mixed-use, providing residential, recreation and work-from home specifically catered for.
What is your favourite city skyline and why?
As a devotee of high-rise construction, it has to be Manhattan, New York, for sheer density and height.  But London's newer towers show they are willing to explore unconventional and iconic design.
Which architect do you admire and why?
No single designer I suppose, but the profession itself which creates spaces to shape lives, livelihood and lifestyle.
Which building do you wish you had been part of constructing?
The ICC building in Kowloon Bay, Hong Kong is one of my favourites – for its scale, dominance on the harbour, complexity of interface with the subway and surrounds, as well the finished quality and outstanding technology incorporated into the facade.
What building in Melbourne are you most proud of and why?
That I have been involved in - right now, it would have to be Aurora Melbourne Central, completed in 2019, for its design, aesthetic, innovation during construction, high-quality product and having seen the project from first day to the last.
What advice would you give anyone thinking of starting a career in the construction industry?
Go for it!  And never forget the power of relationships and teamwork, practise everyday – great teams build outstanding buildings.