Construction begins on new welfare centre for Army recruits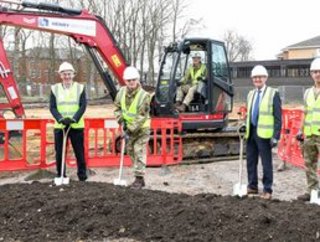 Breaking ground.
Construction is underway on a new £11m welfare centre to support recruits at the Army Training Centre (ATC) in Pirbright, Surrey, UK.
ATC Pirbright delivers the Army's Phase 1 Training, a 14-week course that prepares adult recruits for their Initial Trade Training, where they learn the specific skills for their chosen Army trade. The new Alexander Barracks Soldiers Centre (ABSC), which is due for completion in 2024, will provide centralised welfare support to these soldiers, establishing a single bespoke hub that replaces the current welfare facilities spread across the site.
The ABSC is being delivered by the Defence Infrastructure Organisation (DIO) on behalf of the British Army and is jointly funded by the British Army and the Army Central Fund (ACF) – the British Army's own grant-making charity.
Brigadier Richard Brown, Head of Infrastructure Plans (Army), said: "The Alexander Barracks Soldiers Centre will make a significant and positive contribution to the experience of recruits embarking on their Army career at ATC Pirbright. Infrastructure is about people – not buildings – and this project is one of many examples of the increasing investment across the Army estate that is improving how our soldiers live, work and train."
Speaking on behalf of the Army Central Fund (ACF) charity, Major General Aidan Smyth, Deputy Commander Field Army, said: "I am delighted to see work get underway on the Alexander Barracks Soldiers Centre. The Army Central Fund awards grants to projects that contribute to the well-being of serving soldiers and their families. We are extremely proud to play our part in delivery of this new facility, which will support and maintain morale for recruits at ATC Pirbright."
Designed by WSP, the ABSC will measure approximately 2000m 2 over two storeys and will provide retail and food outlets, as well as a gathering space for families attending passing out parades. The building aims to meet Net Zero criteria and an 'Excellent' rating under the Defence Related Environmental Assessment Methodology (DREAM). Modern methods of construction will be used for the Glulam structural frame, while installation of Photovoltaic (PV) panels will deliver on-site renewable energy generation.
Warren Webster, Defence Infrastructure Organisation, MPP Programme Director – Army, said: "DIO is proud to be involved in the delivery of this impressive welfare facility, which from a major projects perspective is the start of a substantial site redevelopment that is taking place at Pirbright. Not only will it be built using sustainable construction methods that contribute to the Government's commitment to Net Zero, it will enhance the lives of the recruits who use it."
David Henry, Managing Director of Henry Brothers, said: "We are very pleased to be constructing the new Soldiers Centre at Alexander Barracks, Pirbright, which will provide a modern social and well-being space for recruits, with everything they need provided under one roof.
"Henry Brothers has extensive experience working in the defence sector and are proud to be associated with this prestige project. We are thrilled to play such an important role at this site in Pirbright, continuing our close relationship with the Defence Infrastructure Organisation and benefitting soldiers who train here for years to come."
Alexander Barracks Project is a jointly funded Defence Estate Optimisation (Army) Programme, Army Estate Modernisation Programme and Basic Training Adaptation Programme Army infrastructure Project, to support the Army's future Soldier Academy. This is a vital component to the Army's delivery of the Integrated Review. It is key to enabling wider Basic Training Adaptation and delivering a world class Centre of Excellence for all Regular Army non-combat Basic training on a single site in Alexander Barracks Pirbright.