Skanska London office awarded SmartScore Platinum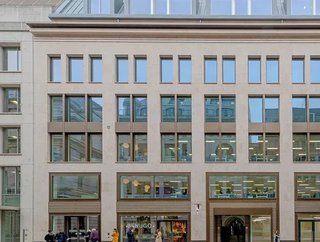 51 Moorgate
Skanska's flagship London office has been recognised as one of the smartest buildings in the city after achieving the highest possible SmartScore rating.
SmartScore is the global standard for smart buildings, recognising those that deliver an exceptional user experience, drive cost efficiency, meet high standards of sustainability and are fully futureproof.
Multi-national construction company Skanska carried out a significant upgrade to 51 Moorgate in 2019, including construction, mechanical and electrical engineering and digital connectivity works to transform the building into its London hub. Since then, work has continued to shape more efficient building management and operation, with installation of MEP upgrades such as air and water monitoring.
This saw 51 Moorgate become the first UK office to secure a Platinum certification under the International WELL Building Institute's (IWBI) WELL v2 Pilot in 2021. It has also secured the IWBI's Health-Safety Seal – a standard informed by Covid-19 taskforce experts, proving it has everything in place to keep people safe and secure.
Building on this, Skanska then created and installed Intellekt, an intelligent buildings service. Intellekt collects and analyses building data, to make smart recommendations on how best to manage the space. This could be anything from simply switching off the ventilation in an empty space based on occupancy levels to a more condition-based asset management approach, reducing maintenance costs and enabling a more efficient workforce. The smart recommendations at 51 Moorgate have reduced energy consumption by 35 per cent.
"Achieving SmartScore Platinum is the icing on the cake for 51 Moorgate," said Katy Dowding, Executive Vice President. "It's an exemplar modern office, and we've developed it with both our workforce and the climate in mind, to provide them with the high-quality space they deserve, while ensuring we manage our building in the most efficient way to drive down carbon emissions.
"When it comes to building management, every decision impacts, so digital solutions like Intellekt hold the key to long term cost and carbon savings by providing instant insights on building performance. We're really proud to have the SmartScore Platinum rating to recognise the importance of this smart infrastructure to shape the efficient, healthy buildings we need for a climate conscious future."