'Better with Bellway' sustainability strategy launched
Bellway's new sustainability strategy coincides with half-year results in which the UK homebuilder's operating profit rose 11.6% to £332.2mn
UK housebuilder Bellway has launched a 'Better with Bellway' sustainability strategy as it steps up its carbon reduction efforts.
The new sustainability push focuses on eight priority areas, each with their own targets and headline KPIs, aligned to operations. They cover Customers & Community; Employer of Choice; Carbon Reduction; Quality & Safety; Sustainable Supply Chains; Biodiversity; Resource Efficiency; and Charitable Engagement.
On the key area of carbon reduction, Bellway is aiming for its homes to produce 75-80% less carbon emissions than those delivered under current regulations from 2025, and aiming to reduce Scope 1 and 2 emissions by 46% by 2030, and cut Scope 3 emissions by 55% by 2030. Its company car fleet will be 100% electric vehicle or hybrid by July 2025.
All electricity purchased will be REGO-certified by December 2023 and it will complete the laboratory-built Salford University Energy House 2.0 project before the end of July. New ambitious greenhouse gas targets intend to reduce carbon emissions beyond the requirements imposed by the Future Homes Standard, according to a statement. Other key elements include:
Responding to customers as quickly as possible, replying to emails within 48 hours and to any missed phone calls the same day
Being an inclusive organisation that strives to create a working environment that is open, diverse, and free from all forms of prejudice and discrimination
Driving awareness of Bellway and educate students on the career opportunities available in the construction industry
Placing "even greater focus" on health and safety by measuring its RIDDOR rate to cover all members of staff, not just those on sites, and looking to increase the ratio of mental health first-aiders to one in ten (from one in 32) by July 2024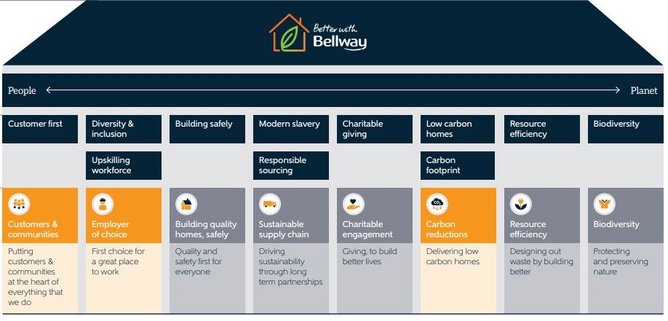 The new sustainability strategy coincided with interim results, in which underlying operating profit rose 11.6% to £332.2mn in the half year ending January 31.
Revenue increased 3.5% to £1.8bn, but was up 15% on January 2020, the last non-Covid affected half year, thus highlighting the progress made by the group. Gross margins rose 150bp to 22.3% and the underlying operating profit increased 11% to £332.2m, in line with consensus.
EPS came in at 203.1p and the interim dividend was set at 45p, a level consistent with its stated 3x cover policy. As previously stated, the company intends to reduce the cover to 2.5x by July 2024. Net cash fell from £346mn to £195.8mn.
Andy Murphy, Director, Edison Group, said: "Despite well publicised challenges to the sector, Bellway completed 5,694 units which was up modestly YoY and up 7% in the six months to January 2020. Demand was strong with reservation rates up 5.8% to 202 units per week. This gave the company confidence to invest in the land market where it contracted on 8,660 plots on 45 sites with an expected gross margin of 23%."