Ecocem and Taylor Woodrow pour first Exegy low-carbon cement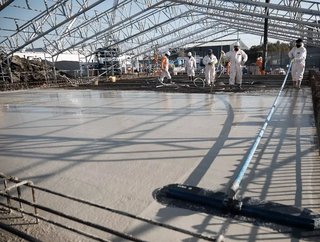 Ecocem and VINCI Construction's Exegy ultra-low carbon concrete has been poured with Taylor Woodrow for the first time at EcoPark South in London
Ecocem and Taylor Woodrow have conducted their first pour of Exegy ultra-low carbon concrete in the UK.
The pour took place on EcoPark South, the first phase in North London Waste Authority's plans to create a £1.2 billion sustainable waste management hub and Energy Recovery Facility at the existing Edmonton EcoPark. The mix used on the project reduces the carbon footprint by up to 70% when compared to traditional concrete.
Taylor Woodrow is building a new flagship Resource Recovery Facility, public Reuse and Recycling Centre, temporary bulky waste facility and new visitor, community, and education facility as part of the project.
Developed over four years by Ecocem and VINCI Construction, the technology – Ecocem Ultra – forms part of VINCI Construction's Exegy ultra-low carbon concrete range, and is already being used on a pilot site of the Grand Paris Express and in the construction of the Athletes' Village in Paris for summer 2024.
VINCI Construction launched the global Exegy brand in 2020 to position itself as a pioneer in the development, use, and deployment of low carbon concrete solutions worldwide. VINCI Construction has developed, jointly with Ecocem, the Exegy ultra-low carbon concrete solutions, bringing its construction know-how and innovative mindset to support the Ecocem Ultra's European Technical Evaluation granted on October 2021.
Exegy and Ecocem rely on a network of partner plants, such as the global building materials supplier, CEMEX, which produced the Exegy Ultra-Low Carbon concrete for the pour.
Micheál McKittrick, Managing Director, Northern Europe, Ecocem, said its Ecocem Ultra technology is already being used at scale in France, and is now being adopted in the UK.
"The cement and construction industries are developing and deploying a range of emission reduction technologies to help the UK Government reduce emissions by 78% by 2035, and reach net zero by 2050, and Ecocem will add a further dimension to these efforts," he said.
Nerissa Patel and Alex Mitchell, Project Managers for Taylor Woodrow, said: "Ultra-low carbon concrete is a key factor in our journey towards carbon neutrality and this marks an exciting step towards achieving it." 
Steve Crompton, Director of Quality and Product Technology for Materials West Europe, CEMEX, said it  is committed to reducing the embodied carbon in our range of cementitious products and we have ambitious targets to lower CO2 levels in concrete, including a global commitment to produce net zero concrete for all our customers by 2050.
"We have been working with VINCI and Ecocem in France to investigate how alternative cement technologies can accelerate the reduction in CO2 in readymix concrete and are delighted to be involved with the project at Edmonton EcoPark to demonstrate how this new technology can contribute to ultra-low carbon emissions in concrete," he said.
While the first pour is a welcome development, the roll-out of new technologies to decarbonise cement might not be scalable for years, warns McKinsey. Nonetheless, its research suggests that, in principle, the industry could reduce its 2017-level emissions by more than three-quarters by 2050.
Companies need to identify the best paths toward decarbonisation through operational advances and technological innovation as well as new growth horizons, and develop a portfolio for growth strategies that leverage opportunities across the 'sustainable construction' value chain.
"Pressure for the cement industry to decarbonise has increased rapidly, not only from society but also investors and governments," the report notes. "In fact, governments are now increasingly asking for environmental impact assessments before deciding whether to commit funding. As public scrutiny of CO2 emissions increases, the risk remains that cement players could be 'shamed' similar to oil and gas or mining companies in the past."
• Join global business leaders and sustainability experts who are taking meaningful action at Sustainability LIVE, being held at Tobacco Dock, London, 23-24 February 2022. Register your attendance today. Click here to discover more.