Laing O'Rourke founder to step down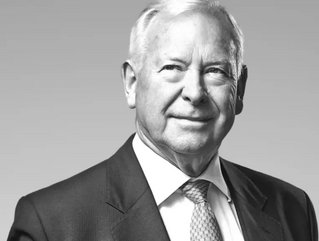 Laing O'Rourke founder and majority shareholder Ray O'Rourke KBE will step down from the group chief executive's position in September 2022
Laing O'Rourke founder and majority shareholder Ray O'Rourke KBE will step down as group chief executive from September 2022.
Almost 45 years after Ray, with his brother Des, began business with a single £2,500 concrete structures project, he will join Des as a Deputy Chairman of the Group, and continue his focus on innovation, people development and major clients.
Seamus French, current ceo of Anglo American's Bulk Commodities and Other Minerals division, will join the leadership team in January 2022; initially as managing director of the Europe Hub and ceo-designate, on a three-year contract.
The appointment to first lead the Europe business will facilitate an orderly ceo handover from Ray to Seamus following the delivery of the FY22 (April 2021-March 2022) trading period, audit and accounts. Seamus will then be group ceo and Europe Hub managing director.
In a statement, Sir John Parker GBE FREng, group chairman, Laing O'Rourke, said French has already spent 18 months with the group as a Non-Executive Director, witnessing first-hand the improving performance of the business.
"He understands the discipline of the unique operating model and the development of Laing O'Rourke's longer-term strategy, and has formed connections across the leadership team," he wrote.
In Australia, the next managing director of the Australian business will be Rebecca Hanley, current group director of strategy and transformation, and leader of Laing O'Rourke's R&D operations. She will assume her new role in April 2022.
"Cathal O'Rourke has informed me and the ceo that the end of the next group trading period would present a good juncture – for him and the business – to enact the succession plan and hand over executive accountability for the Hub," he added.
He will take up a position on the group board as a non-executive director.
Hanley has worked with Laing O'Rourke since 2016, collaborating with Ray in London on the financial and operational restructuring that was required to transform the business, culminating in the group's 'Deliver 2025' agenda.
She brings a strong strategic and financial skillset to the role, as well as broad sector experience from past roles in resources, oil and gas, advisory and private equity.
Laing O'Rourke reported earnings of £69.9m before interest and tax for the financial year ending March 31, delivering a Group profit before tax of £41.4m and an ongoing order book of £7.9bn.