Octopus Real Estate completes Winslade Park loan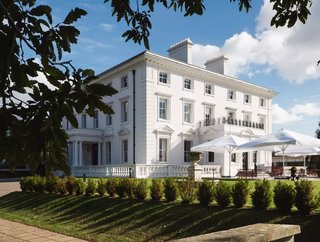 Octopus Real Estate's £27 million loan at Winslade Park in Exeter will refurbish 170,000sq ft of offices and letting of further phases
Octopus Real Estate has completed a £27 million refinancing loan at Winslade Park in Exeter, which will be spent refurbishing 170,000sq ft of offices and letting further phases.
The former AVIVA campus, which had sat vacant for a number of years, is being repurposed and regenerated by Burrington Estates. The first phase of the scheme provides state-of-the-art business accommodation with Grade-A office, conference, and co-working space.
Bringing the Grade 2* Listed manor house back in to use and securing its long-term future is central to the redevelopment plan.
Alongside a central hub with restaurant, bar, serviced office, and gym facilities, further phases of the scheme will provide flexible, modern office space, well suited to accommodate both headquarters' operations and businesses with larger requirements. 
Up to 40 businesses aim to be lured by 1 Gb/s broadband, natural ventilation, low energy lighting and a range of serviced or managed options.
Winslade Park also includes extensive wellness facilities and high-quality residential space. The ongoing development of the 86-acre estate will enhance its offering as the "leading work and lifestyle community" in Exeter.
The park has committed to a three-year plan to develop and integrate on-site renewable energy generation and infrastructure, which fits with Octopus' status as a B Corp and its commitment to being carbon neutral by 2030. Funding borrowers to regenerate assets of this nature is well aligned with the organisation's dedication to continuously improving the markets in which it operates.
Dominic Gibson, Investment Director, Octopus Real Estate, hoped that opportunities to fund regeneration schemes like this become the norm in the years ahead.
"This is a fantastic asset that provides exactly what modern occupiers are seeking: high quality workspace, superb amenities, and a highly accessible location. Burrington Estates is an experienced counterparty, and we are delighted to be supporting the company. It has delivered an exceptional product which has been met with extremely strong occupier demand," he said.
"Octopus has always been committed to funding strong borrowers with strong assets across the country. This loan underlines our belief in the importance of regional markets, and our continuing support for borrowers across the UK and Ireland."
Mark Edworthy, Group Managing Director, Burrington Estates, said it had a great relationship with the Octopus Group for many years and the Real Estate team understood its business plan and structured a flexible loan facility that will enable us to deliver it.
"Their knowledge of the real estate market and their ability to see things from a borrower's perspective really sets them apart. Their support for asset regeneration was always clear, meaning that we had aligned interests from the outset. We very much look forward to delivering the next phases of the scheme with Octopus' support, before moving onto future projects together."
Editor's comment: Winslade Park lies at the end of my road, and its striking Georgian designs are complemented by an idyllic tree-lined setting - it's large enough to host cricket. While its environmental attributes aren't in doubt, anecdotally, the few times I've ventured in, it has been quiet (though in fairness that may be down to the redevelopment), and I find access a bit of a double-edged sword - while close to the M5 (Junction 30), the entrance is via a discreet slip-road. It's about a 20-minute drive from the city centre.
Clearly the restructuring deal now provides a sound foundation for the future, together with the focus on renewable energy, which is to be commended.
During the pandemic, the traditional boundaries of work and lifestyle may have come down, but are we ready for 'work and lifestyle communities' and will firms pay a premium for the proposition? What happens to city centre lets if they do succeed? Will more firms go fully remote, or is hybrid here to stay? There remain plenty of corporate uncertainties in these disruptive times.