Building your stadium reconstruction team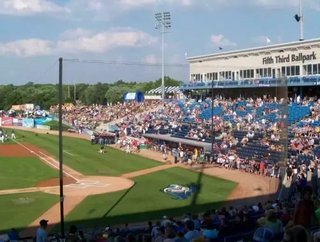 Every spring, millions of baseball fans pack stadiums across the country to root for their team as they kick off the season. Yet, after a January fire s...
Every spring, millions of baseball fans pack stadiums across the country to root for their team as they kick off the season. Yet, after a January fire sparked by a heater in a luxury box at the Fifth Third Ballpark—home to the Detroit Tigers' Single A minor league affiliate—having a place for the fans to call home on opening day seemed highly unlikely.
Building and rebuilding sports stadiums is a massive undertaking. To put it in perspective, plans for the new New York Yankee stadium were announced in 2005, groundbreaking occurred in August 2006 and the first game wasn't played until 2009, three full years later.
However, having the right team in place—from industry veterans to forensic engineers who are familiar with fire damaged buildings and an established project liaison—can drastically reduce the amount of time needed to rebuild a stadium.
Building the team:
Step 1: Identify industry veterans
When beginning a rebuild, consulting with the original construction company can yield previously unknown but critical information that can help speed up construction time and reduce the risk of structural problems. For example, knowing the type of materials used in the original build in advance can help the current construction company cut down on the amount of time needed to source new materials.
Step 2: Co-ordinate with co-partners
In the event of a catastrophe, such as a fire, resulting damage can significantly impact a building. But in some cases, even the best construction companies have limited experience working with fire-damaged buildings.
This was the case at the Fifth Third Ballpark rebuild site. Recognizing this challenge, the hired construction company partnered with a forensic engineering firm that had the ability to identify what, if any, structural components of the stadium were salvageable. By partnering with outside experts who had the required knowledge, the construction company did not have to replace structurally sound materials, allowing them to instead focus its efforts on high-risk areas.
Step 3: Seek effective communicators
With so many people on a construction site—from construction crew members to company executives—effective and clear communication is extremely important. Implementing a top-down communication system that originates from a single source is thus necessary to maintain order and keep projects on track.
The benefits of such a communication system were demonstrated at The Fifth Third Ballpark rebuild when the executives at the stadium decided to alter the original design by widening walkways in their luxury boxes and expanding the size of their pro shop. This last-minute redirection could easily have resulted in a communication failure. However, since the hired construction company was working with an on-site consultant who acted as a liaison between all involved parties, updated design information was clearly communicated in a timely manner, allowing the construction company the opportunity to quickly and easily readjust to the change.
Play ball:
On April 8, 2014, the Detroit Tigers' minor league players proudly walked onto home field to play their season opener, just a few short months after the devastating fire. Two months later, the 2014 Midwest League All-Star game was also hosted at the Fifth Third Ballpark.
This is no isolated achievement. By building the right team, consisting of knowledgeable industry veterans, active co-partners and clear communicators, success like this can be repeated by construction companies across the country.
Steve Mortensen is an executive general adjuster for the Chubb Group of Insurance Companies.