China's Broad Group builds 10-storey apartment in 28 hours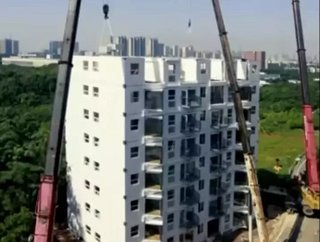 Broad Group, a private manufacturing enterprise located in China has constructed a 10-storey steel apartment in 28 hours
The China-based manufacturing enterprise Broad Group has managed to construct a 10-storey steel apartment building in just over a day. Constructed in the city of Changsha in China, the company used bolt-together modular units known as its "Living Building System". 
A video time-lapse showing the build process. Video: Broad Group.
Broad Group, a manufacturing company based in Changsha, constructs a range of air-conditioning, heating, and prefabricated structural units. It accomplished the challenge in 28 hours and 45 minutes, enlisting help from three cranes and an on-site workforce. 
Broad Group's "Living Building" system
Designed to be easy to transport and install, Broad Group's "Living Building" system uses components that are able to fit into a standard shipping container, and then be bolted together when they reach the site. Ductwork and wiring are fitted directly by the factory, the company said. 
As part of the system, Broad Group's B-Core steel slabs are used as structural elements which, the company claims are 10-times lighter and 100-times stronger than conventional slabs. The company also says they have the ability to resist earthquakes and typhoons, and that it costs less than a carbon steel building and has low energy consumption. 
Broad Group also says that buildings of up to 200 storeys, supertall towers, could be built using the same modules due to the B-Core steel slabs' strength and lightness. 
Other Broad Group projects 
Broad Group has completed other significant projects in the past. In 2012, for instance, it attempted to build the tallest tower in the world in Changsha at 838m, which would have made it 10m taller than the Burj Khalifa in Dubai. The company claimed it could have made the building, named Sky City, in just eight months. However, due to not receiving approval, it was never built. 
In 2015, the company accomplished another "speed-build" challenge, constructing a 57-story tower using the "Living Building system". It was completed in just 19 days.