Emaar announces major Chinatown development in Dubai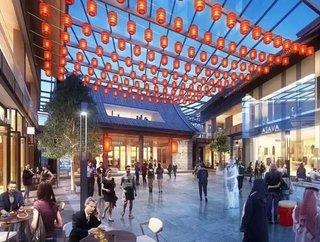 Dubai-based developer Emaar has announced a landmark development that will further bolster UAE-China relations. Emaar will develop theMiddle East's lar...
Dubai-based developer Emaar has announced a landmark development that will further bolster UAE-China relations.
Emaar will develop the Middle East's largest Chinatown within the retail district of Dubai Creek Harbour, its six-square-kilometre mega-development, only 10 minutes from Dubai International Airport and the iconic Burj Khalifa. No costs have yet been made available.
The project was announced during the historic visit of President Xi Jinping of China to the UAE to honour Chinese expatriates in the UAE and strengthen business ties with China.
The retail precinct will occupy a central location within Dubai Creek Harbour which will become home to the world's new icon, Dubai Creek Tower, and encompass vibrant lifestyle elements.
Related stories:
Set by the Dubai Creek waterway, "elegantly designed homes in Dubai Creek Harbour will offer spectacular views of the city's dramatic skyline, the waterfront and the Ras Al Khor Wildlife Sanctuary".
Further strengthening Emaar's outreach to China, the company also announced that it will open three dedicated pavilions in China – Beijing, Shanghai and Guangzhou, all cities served by direct daily flights to Dubai on Emirates Airline. The three offices will promote tourism, education, trading and investment between UAE and China.
In a third announcement, Emaar will expand its premium luxury hotel and serviced residences brand, Address Hotels + Resorts, to China. Discussions are ongoing to develop and operate Address branded hotels in key cities in the country, given the familiarity that the brand enjoys among Chinese tourists.
Emaar's expansion to China complements the 'One Belt, One Road' initiative, in which the UAE will have a significant part to play.
China is the fourth largest visitor source market for Dubai, with tourist and Emaar's hotels are among the most-preferred by Chinese visitors, given their central location and effortless access to lifestyle destinations such as The Dubai Mall.
Emaar's Downtown Dubai and its attractions including Burj Khalifa, The Dubai Mall and The Dubai Fountain are popular destinations for Chinese visitors.
Mohamed Alabbar, Chairman, Emaar Properties, said: "The visit of Chinese President Xi Jinping to the UAE is historic and will strengthen UAE-China relations, underpinned by initiatives such as the UAE-China Week. The development of the new Chinese retail and lifestyle district at Dubai Creek Harbour - as well as Emaar's expansion into China, in property and hospitality - highlight our commitment to the country."