Henry Construction turnover reaches more than £375mn
Contractor Henry Construction has revealed its annual turnover reached £376.6mn for the year leading up to 30 June 2020
Concrete contractor Henry Construction Projects Ltd has seen a rise in its turnover to £376.6mn in the past year up to 30 June 2020, representing an annual increase of more than £70mn. In addition, the company increased its pre-tax profit from £10.8mn to 12.9mn - an increase of 25% - in the same period. 
Former specialists in groundworks, civil engineering, and reinforced concrete structures, Henry Construction Group operates in the public and private sectors as a contractor working on residential and mixed-residential projects. Mark Henry, Director of Henry Construction Projects Ltd, said: "Our five-year strategic business plan targets a balanced spread across these sectors, with planned consolidation in the market and steady growth targeted when the right opportunities emerge". 
In 2015, Henry Construction's turnover was £50mn, demonstrating a £327mn increase over six years. The company says this is growth rate is being fuelled by a "strategic move" to accommodate larger construction projects and has transformed the business. 
The Arc Project 
Earlier this year, Henry Construction secured an order to construct a mixed residential and office tower block as part of a project named "The Arc". Built close to Silicon Roundabout in London, it was designed by the architect AHMM and resembles 19th Century red brick buildings in New York and Chicago. 
The Arc is split between six floors of office space in the building's long podium topped with 16 storeys of luxury flats.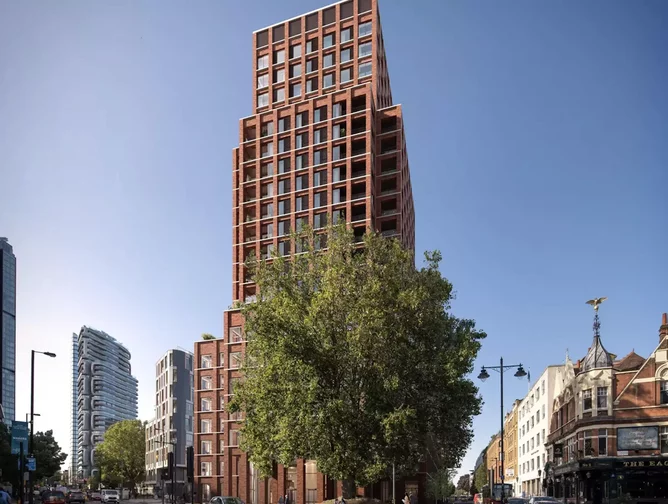 225 City Road, the site on which the building was constructed, has been used as a temporary car park since the mid-1990s and, at the time of building, was the last vacant site in the area, which has been developed in recent years as a city fringe cluster of mainly residential towers.
In addition, the company recently secured its second phase of the Guinness Partnerships 900-ho,e Imperial Wharf Scheme located at Bromley by Bow. Mark Henry said of the scheme: "The outlook is positive and our order book remains healthy. Our progress in recent years, despite challenging economic conditions including Brexit and a pandemic, is a reflection of the strategic focus we have committed to, aimed at meeting customer needs and ensuring that HPLC provides deliverable, quality, and safely conducted schemes". 
Image: Boiler House, one of Henry Construction's projects. (Source: Henry Construction Projects Ltd).