Hill International to project manage Cyprus resort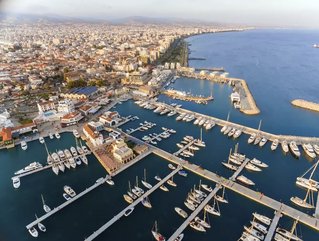 Hill International selected to provide project and construction management services for major mixed-use development in Limassol
Hill International has been selected by Anolia Holdings to provide Project and Construction Management services for a major mixed-use project in Cyprus.
The development will contain the 300-key Grand Hyatt Limassol, a residential tower, gated community villas and range of premium facilities, all presented in a 'city within a city' bespoke concept. The resort is spread across 10 hectares of parkland. 
The building will consist of a six-floor East wing and a seven-floor West wing connected by a grand lobby, and will provide amenities such as three restaurants, premium spa and fitness facilities, a kids club, a multifunctional ballroom with audio-visual and entertainment technologies, a fully equipped business center, and a personalised concierge service.
Located immediately above the hotel, the 24-floor residential tower will offer apartments with 360-degree views of the Mediterranean coastline and surrounding mountains. The tower will also feature a designated amenity space for residents and will provide a private entrance with 24/7 security and underground parking, an infinity rooftop swimming pool and kid's pool with sun loungers, a wellness bar and a fresh local Mediterranean herb garden, a lounge area, a business centre, library, cinema room, and kid's playroom.
The resort will also include gated community villas whose residents will enjoy lush landscaping and long promenades, as well as kids' playgrounds, outdoor sport facilities, a dedicated yoga and meditation area, and complete privacy in a secure environment.
Under the contract, the Hill International team will provide project management services for both pre-construction (including design review) and construction stages (including project controls, contract administration, claims management, construction supervision, commissioning, and licensing) of the development.
"Cyprus has always offered an authentic Mediterranean experience," explains Panos Efstathiou, Hill International Country Manager for Cyprus and Head of Advisory Services for Southern Europe. "This ambitious project captures that experience and enhances it with a green, luxurious destination with views around every corner. Our role will be to make certain the resort Anolia Holdings Ltd envisions is the resort delivered to guests and residents."
Manolis Sigalas, Hill's First Vice President & Managing Director for Southern Europe, said: "This is a distinctive development that will elevate Cyprus' position as a destination for high-end tourism in the eastern Mediterranean. We are honored to be selected by Anolia Holdings as their PM partner and delighted to see our operations in the country grow further with such a significant project."
Hill Chief Executive Officer Raouf Ghali added: "Visitors are flocking back to luxury destinations like this resort as we continue to recover from the pandemic. Realising this project and similar projects to the level our clients expect is a particular area of expertise for Hill, and our team will bring the best practices and lessons learned from our resort work around the world to achieve Anolia's goals for the resort."
An elite penthouse with a private terrace has been introduced to the Symbol residential complex, on the coast of Limassol, by Golden Wisdom, part of the Investment Group of international entrepreneur Elena Baturina. The 351sqm duplex penthouse can be accessed via two elevators and contains three bedrooms, a guest room, three roofed verandas, and a private terrace on top of the 12-floor building. It was developed by the Spanish architect Ricardo Bofill.