Hill Partnerships, Wheat Quarter revive Welwyn Garden City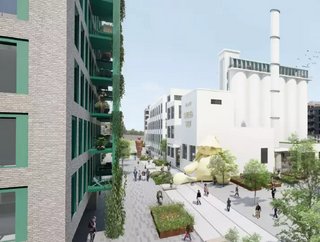 Hill Partnerships and Wheat Quarter sign 'multi million pound deal' to regenerate a former Shredded Wheat building in Welwyn Garden City
Wheat Quarter and Hill Partnerships have entered into a construction agreement for the delivery of the former Shredded Wheat Factory buildings and public realm at the exciting Welwyn Garden City regeneration scheme.
The multi-million pound deal will bring about the sensitive refurbishment of Wheat Quarter's Listed Production Hall, Listed Silos and Art Centre. Hill will also deliver the new Louis de Soissons Building and Bridge Community Building as part of a comprehensive single package deal. Welwyn Garden City is a town in Hertfordshire, approximately 20 miles from London.
Wheat Quarter Project Director, John West, said "We are delighted to have signed the construction agreement with Hill, who bring their quality, proven track record and delivery strength on board. Having created the platform for Metropolitan to be on site today delivering affordable housing on the south site, we hope to receive planning approval for our improved scheme on the north site in the coming months and start work later this year for the final phase of this landmark site.
"We have all endured a tough three years through Brexit and Covid. However after a lot of hard work, we are excited to be back to deliver this exceptional scheme with Hill as our delivery partners, who will use their skills and expertise in town centre regeneration to make the former Shredded Wheat Factory Buildings shine once again".
Andy Hill, Chief Executive at Hill, said it was looking forward to working with Wheat Quarter to carefully restore and refurbish the iconic listed Production Hall, Silos and Art Centre and will use its "exceptional skills" in regeneration to ensure these landmark historic buildings and the new Louis de Soissons and Bridge Community Buildings, deliver excellent amenities for the benefit of the community, helping to revitalise and breathe new life into the centre of Welwyn Garden City.
Walter Cooper & Co assisted with the acquisition and disposal of land at Wheat Quarter to a range of developers. Working in conjunction with JLL, Walter Cooper has packaged the deal with Hill, which will see them build 150,000 sq ft of commercial buildings, creating hundreds of new job opportunities in the town. The Hertfordshire Mercury reports that the site could house 1,200 flats.
Towns and cities are working hard to reposition themselves in response to the pandemic and growth in online shopping.
Wigan Council has announced that Galleries25 – a joint venture partnership between Cityheart and Beijing Construction Engineering Group International – has been appointed as the Strategic Development Partner for the £130 million redevelopment of the Galleries Shopping Centre in Wigan.
Plans for the transformation of City Square in Leeds are set to take a significant step forward with the appointment of Leeds-based Re-form Landscape Architecture which will collaborate with Leeds City Council and other stakeholders on the scheme. The company's concept for the new-look City Square is due to be fine-tuned over the course of the next year.
Startup Digital Urban is incorporating 3D digital modelling capabilities and satellite technology. It is the latest company to join the ESA Business Incubation Centre United Kingdom (ESA BIC UK) at the Science and Technology Facilities Council's (STFC) Daresbury Laboratory, and aims to take advantage of the support available in space and satellite technologies to further its commercial development.
Turn to page 70 of our June issue to read more on urban regeneration projects.