Innovation and collaboration: inside Santander's $190mn UK tech hub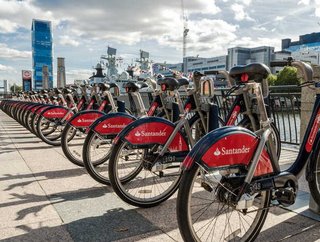 Authorities have given the go-ahead for a new technology hub which is set to bring staff together and foster innovation at...
Authorities have given the go-ahead for a new technology hub which is set to bring staff together and foster innovation at Santander.
A new UK technology hub for Santander will be developed in Milton Keynes, the company's current UK headquarters where staff are at present spread across four offices. The operation is set to cost £150mn (US$187mn).
The building, designed by LOM and developed by Osborne & Co, will provide 5,000 workstations spread across 37,000 sq m of open plan office space. Natural light and a roof terrace should help boost productivity, while the hub will also play host to publicly accessible shops and cafes, which will help integrate the banking giant into the local community.
The addition of facilities for members of the public reflects Santander's commitment to integrate itself within the local communities it serves. Speaking exclusively to Gigabit, CDO David Hayes said: "Communities are really important to us… Santander has targets to make sure everyone takes part in community work, be that abroad or locally." In 2018 Hayes spent some time helping a local food bank, with most staff taking part in fundraising activities. "The motivation you get from making a real difference in your local area is great, and is very healthy for an organisation like Santander."
SEE ALSO:
In addition, coworking spaces will be an important feature. Prior to approval for the new facility, Santander revamped its existing Milton Keynes offices with colourful open spaces and well-lit breakout areas to promote collaboration and to reflect the bank's culture as a decades-old institution which is still keeping up with a rapidly changing industry and workforce.
Work is set to begin in October and be completed in 2022, with developer Osborne & Co also working on the company's new £75mn ($93mn) contact centre and operations hub in Bootle, which is set to house 2,500 staff.
Hayes called both sites "historic sites for Alliance and Leicester and Abbey National", adding: "The UK bank is one of the biggest elements of the Santander group and we're very committed to our UK base. We've got 14mn active customers here and over 20,000 staff in different parts of the organisation."
Nick Roberts, Head of Property at Santander UK, said: "We're really pleased that our plans to invest in a new state-of-the-art office campus have been approved by Milton Keynes Council. This is an exciting next step in the development of our flagship UK technology hub – giving our colleagues a cutting-edge working environment and reaffirming our long-term commitment and support for the local community."
You can read more about Santander's commitment to innovation in our company report.