Liverpool scores new construction goals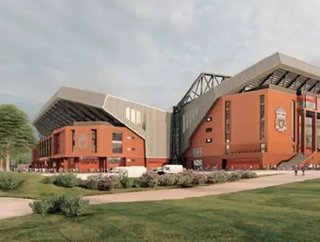 New stadium and redevelopment projects are keeping contractors busy across the city
The north-west of England is renowned for its established football rivalries.
Now the spirit of competition is extending to the touchlines with lucrative construction contracts coming into view.
Following the start of work on Everton's stadium at Bramley-Moore dock comes news from its closest rivals as Liverpool's Anfield Road Stand redevelopment recently received the go ahead.
Buckingham Group said the project will see 7,000 more seats added to Anfield, taking its overall capacity to more than 61,000.  The construction of the stand will work in the same way as the redeveloped Main Stand, with the build taking place throughout the season while matches continue to be played throughout. It is expected to be ready for the 2023-24 season.
Andy Hughes, Managing Director, Liverpool FC said: "We have been clear from the beginning that in order for this expansion to go ahead we needed the co-operation of local residents and the community, to successfully navigate the complex planning landscape and to ensure the project is financially viable.
"We needed certainty for this project to progress and are now in a position to be able to move forward. We began this journey in 2014 and are grateful to everyone for the contributions they have made to bring the project to this stage."
Following two stages of public consultation and feedback on the initial plans, Anfield Road's expansion project will reroute Anfield Road itself around the footprint of the new stand.
The project was given planning permission by Liverpool City Council in June 2021 which also awarded the club permission to hold up to six concerts and major events at the stadium for a period of five seasons.
The club will work with Buckingham Group Contracting as principal contractor on the project.
The pandemic has challenged the football ecosystem and increased financial pressures on clubs and leagues. Even before the crisis, many faced a structural economic disadvantage, with investment and financial resources concentrated in a handful of clubs.
"Sports venues have evolved in the past to overcome financial challenges, with many becoming multi-purpose venues to diversify and boost supplementary revenue generation," notes a PwC report.
"This focus on adaptation and transformation will be key in redeveloping infrastructure strategies in response to COVID-19."
Premiership and Championship clubs are to trial safe standing areas from January.