McDermott takes deepwater construction to new depths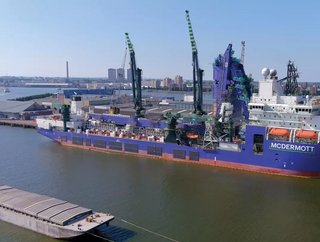 McDermott claims its Amazon vessel is redefining ultra-deepwater construction
McDermott's Amazon vessel is sailing to the Gulf of Mexico to support a subsea contract for the Whale Development in Alaminos Canyon, after upgrading its ultra-deepwater capabilities.
"This contract, which will take place in a water depth of more than 9,000 feet, is a massive opportunity to demonstrate how the Amazon, with its industry-leading pipelay capabilities, is redefining what is possible within ultra-deepwater construction," said Samik Mukherjee, Executive Vice President and Chief Operating Officer.
Under the contract's scope, McDermott will provide engineering, procurement, construction, installation and commissioning (EPCIC) for 30 miles (50kms) of pipeline and approximately nine miles (15kms) of umbilical to connect five drill centers to a new offshore platform. The project will commence immediately and is expected to be completed in 2024.
"The technology behind the upgraded Amazon significantly elevates its ability to efficiently deliver safe, quality-driven results," said Mark Coscio, Senior Vice President for McDermott's North, Central and South America region. "This vessel and its capabilities are a game changer for the industry."
The Amazon's upgraded specs enable highly automated operations, the production of hex joints from single or double joints using an onboard multi-joint facility and a pipe hold capacity of 10,000 metric tons.
Its increased level of automation also enables a significant reduction in the crew numbers required to safely perform pipelay operations, boosting its operational resilience against the ongoing COVID-19 landscape.
Engineering, procurement and project management services will be led by McDermott's team in Houston. McDermott's North Ocean 102 will continue its successful track record in the Gulf of Mexico with the installation of the umbilical and the Amazon will transport and install the rigid ultra-deepwater pipelines.
Helix Energy Solutions Group has been awarded a multi-year riser-based well intervention scope of work by a major operator for the charter of the Helix Q5000 and 15K Intervention Riser System in the US Gulf of Mexico.
The awarded scope of work is currently projected to start in 2022 on a call-off basis and includes well intervention and production enhancement activities. The Q5000 and 15K IRS system are part of the Subsea Services Alliance which combines the collective strengths of Helix and Schlumberger.
Last week Enbridge, the multinational pipeline company, entered into a definitive purchase agreement with EnCap Flatrock Midstream to acquire Moda Midstream for $3 billion in cash, subject to closing adjustments. The acquisition will significantly advance the company's US Gulf Coast export strategy and connectivity to low-cost and long-lived reserves in the Permian and Eagle Ford basins. 
In May, Shell Offshore announced a significant discovery at the Leopard prospect in the deepwater Gulf. The Leopard well encountered more than 600 feet (183 metres) net oil pay at multiple levels. 
If crude oil prices average $70 per barrel over the long term, 36 million barrels per day of new crude production from unsanctioned projects will be needed to meet demand in 2030 and much of this is expected to come from deepwater fields, according to McKinsey.
About 20 percent, or 2 million bpd, of new global deepwater supply will come from the Gulf of Mexico, the largest wedge of new production after Brazil.