Most iconic buildings in Canada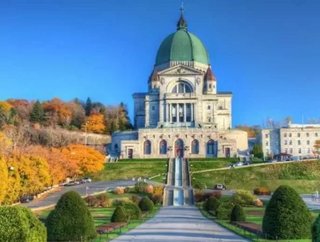 Canada is a popular destination for tourists with manynational wonders. We take a look at iconic buildings in Canada which continue to amaze and fascina...
Canada is a popular destination for tourists with many national wonders. We take a look at iconic buildings in Canada which continue to amaze and fascinate, in turn influencing future architectural builds.
Notre-Dame Basilica, Montréal 
Situated within Montréal in Canada, the Notre-Dame Basilica is one of the most iconic buildings within the region, incorporating Gothic Revival architecture with complex designs.
Built in 1824 by architect James O'Donnell, the basilica was completely finalised in 1829. A detailed ceiling is displayed within the interior, alongside deep blues, golds, silver, purple and red hues which dominate the space, with stained glass windows which reflect Montréal's history.
The basilica has been a National Historic Site since 1989 and continues to attract locals and tourists to the area.
West Edmonton Mall, Edmonton
At 5.3 million square feet, the West Edmonton Mall is the largest shopping mall within North America.
Incorporating over 800 stores, it is the 10th largest mall in the world, with over 30.8 million visitors and room for 20,000 vehicles.
The mall has several entertainment attractions, with the second largest amusement park and waterpark in the world, ice palace and movie theatres.  
St Josephs Oratory, Montréal 
St Joseph's Oratory is Canada's largest church. Built in 1967, the church can sit over a thousand people and was made a National Historic Site of Canada in 2004.
CN Tower, Toronto
Built in 1976, the CN Tower works as a telecommunications hub for Canadian citizens and was once the tallest building in the world at 1,815.4 feet.
Constructed by a multitude of architects at a cost of $52 million, the tower is one of the most popular tourist attracts within Toronto with over 1.5 million visitors per year. Tourists can enjoy views of Canada's skyline from four areas within the tower, incorporating the world's highest glass floor.
The build incorporates three restaurants, theatre and kids area, with stunning light shows each night which illuminate the skyline.
Confederation Bridge, Canada
Designed by a consortium, led by J.Mueller International and Stantec, the Confederation Bridge is the longest bridge in the world which crosses ice-covered water.
Built within four years, linking Prince Edward Island and New Brunswick in order to reduce travel time, the 12.9km bridge is an iconic build within Canada, opening in 1997.
Follow @ConstructionGL
Read the August 2016 issue of Construction Global magazine