MYCON Contractors completes Marvin Tate Complex in Dallas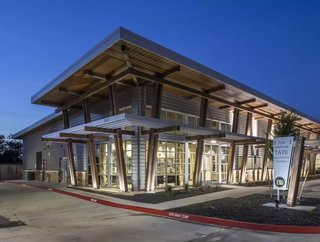 MYCON General Contractors finishes The Marvin Tate Coordination Complex Center, Brazos Transit District's new corporate headquarters in Dallas
MYCON General Contractors has completed construction of The Marvin Tate Coordination Complex Center, Brazos Transit District's new corporate headquarters in Bryan, Texas. 
The 11,518sq ft Coordination Complex Center is dedicated to former City of Bryan Mayor and Texas A&M Junction Boys 'Survivor', Marvin Tate, and centralises all administrative, training and operational resources for 23 counties.
The building features offices, meeting spaces, a distinguished and adaptable board room with the latest built-in accessibility features, and lobby space highlighting BTD's local history. The façade consists of modern metal paneling and glued laminated (glulam) timber beams, which are efficient to produce and are highly durable.
Williamson Group Architects and PlanNorth Architectural Company were the architects for this project. Brazos Transit District is the owner. The Coordination Complex Center was funded by; Federal Transit Administration (26%), Brazos Transit District (24%), and Texas Department of Transportation (50%).
Since 1987, MYCON's work portfolio has spanned construction categories ranging from healthcare, industrial and institutional to office, retail, religious, manufacturing, food processing, and more. With annual revenues of approximately US$300mn, MYCON has completed hundreds of commercial construction projects. 
Texas construction updates
Yesterday Michael Baker International, which specialises in engineering, planning and consulting services, announced that Jason Sipes - formerly Senior Project Director at Atkins - has joined the firm as Office Executive – Dallas. In this role, he will lead a multidisciplinary team in executing client projects and expanding the firm's business with new clients, markets and capabilities in Dallas, as well as across North Texas and the Southern Region.
Jacobs has been awarded the architecture and engineering phase one design contract by Axiom Space for the Assembly, Integration and Testing facility planned for the 400-acre Houston Spaceport in the heart of Space City at Ellington Airport. This new 100,000 sq ft facility will support Axiom Space's mission to provide access to low Earth orbit and assemble the first commercial international space station.
Saulsbury Industries, a national, full-service EPC company, has been awarded construction contracts for the installation of a new cryogenic gas processing facility in the Permian Basin with a major oil and gas producer. This facility, designed with a base-rated capacity of 200 MMSCFD, will be the firm's 63rd cryogenic processing facility over the last 15 years, totaling over 11 BCFD of processing capacity. The company has also been selected to execute a major terminal expansion for the same client at a different location.