Saudi Arabia Red Sea developer achieves BIM Kitemark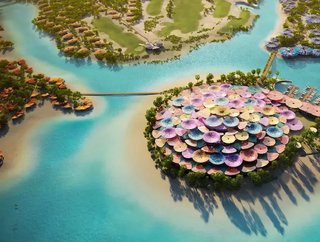 The Red Sea Development Company (TRSDC), which developed a 28,000sq km resort on the Red Sea coast, is the first asset owner to achieve the BIM Kitemark
Developers of a 28,000 sq km resort on the Red Sea coast in Saudia Arabia have become the first asset owner in the world to achieve the Building Information Modelling (BIM) Project Kitemark. It was awarded by the British Standards Institution (BSI) for the company's digital project delivery and adoption of BIM aligned to ISO 19650, an international standard for managing information over the whole life cycle of a built asset using building information modelling (BIM).
The project, which started in 2018, has seen TRSDC use BIM technology to create a shared environment and make data-driven decisions in a shorter period of time. The company says it is adopting a 'model first' approach, working with its project partners to enhance and build their BIM technology. For Manufacturing and assembly, TRSDC is also using modern design and construction methods. 
The Red Sea Project  
The Red Sea Project is due to be fully completed in 2030 with the first phase being complete and operational by 2023. The Red Sea Project will comprise 50 resorts, offering up to 8,000 hotel rooms and more than 1,000 residential properties across 22 islands and six inland sites. The location will also include luxury marinas, golf courses, entertainment, and leisure facilities.
Discussing the BIM Project Kitemark, John Pagano, CEO of TRSDC, said: "This certification is a remarkable achievement and demonstrates how serious we are about setting new standards throughout the design, construction, and operations of our destinations. This way of working is an increasingly important part of the global design and construction marketplace, and we look forward to sharing our knowledge with other projects around the world."
Susan Taylor Martin, Chief Executive of the British Standards Institution, said: "We are delighted to have worked with TRSDC on its adoption of international standards and specifically its market-leading BIM implementation." She also said that the attainment of the Kitemark by TRSDC represents "an important milestone as the world's first BIM Project Kitemark to be achieved by an asset owner."