[SLIDESHOW] Construction gets underway at Staten Island Port Authority bridge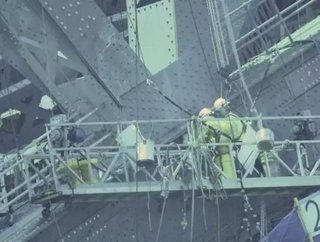 Later this month, the Staten Island Port Authority in New York will begin its $1.3 billion 'Raise the Roadway project, which will see the Bayonne...
Later this month, the Staten Island Port Authority in New York will begin its $1.3 billion 'Raise the Roadway' project, which will see the Bayonne Bridge's current road being lifted. The aim of the project is to allow for larger cargo ships to pass into the ports of New York and New Jersey.
The arduous task on the Bayonne Bridge will involve moving 150-ton slabs of concrete up and over the road an into their foundation along the bridge approach. These pre-cast slabs will serve as the taller support piers for the new, higher roadway of the Bayonne Bridge.
As with any construction project of this scale, there are expected to be traffic delays in the weeks ahead. "Twenty-minute traffic holds, beginning at the top of the hour, may occur weekdays between 9 a.m. and 3 p.m.," the Port Authority said in a press release. "Traffic holds will vary in quantity and frequency as construction proceeds."
According to Joann Papageorgis, the program director of the Bayonne Bridge Navigational Clearance Program at the Port Authority, there are two reasons for the daytime traffic holds: Noise restrictions and driver safety.
"There's a nighttime noise limit of 65 decibels, which is about conversation tone. The cranes that we have to use to move the concrete slabs are just too loud to operate at that level at night," she said.
Furthermore, the cranes on-site will be moving concrete that weighs anywhere from 20 tons to over 150, and the PA cannot risk having cars drive on the bridge during that time.
The piers are being installed in phases, from underneath the current bridge approach. They will eventually tower over the current roadway. It is not clear when construction work will be completed. The new bridge span will include four 12-foot wide lanes -- two in each direction -- a 12-foot wide pedestrian/bike path, and nearly 5-foot wide shoulders on each side.