SOM designs vertical campus for Buenos Aires waterfront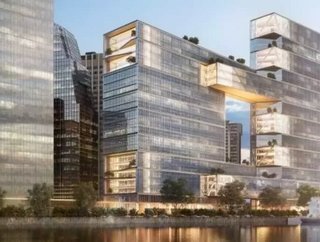 Skidmore, Owings & Merrill (SOM) hasreleased renderingsfor Catalinas Rio, a waterfront office building to be the centre of activity in Buenos Aires...
Skidmore, Owings & Merrill (SOM) has released renderings for Catalinas Rio, a waterfront office building to be the centre of activity in Buenos Aires' Catalinas Norte business district. 
The US architect is working with Argentinian firm Consultatio Real Estate on the development, which houses offices, retail and public green areas in two intertwined trapezoid towers.
"The city's financial district is undergoing a period of unprecedented expansion," said Eduardo F. Costantini, President of Consultatio Real Estate. "The new plots acquired by Consultatio bring about new ways of coexistence and urban connection. Thus, Catalinas Rio was born as a strategic project, a crucial point of contact and passage through areas destined for commercial activities, combined with green spaces and cultural, tourist, governmental, and historical sites. It's a new icon that will change Buenos Aires' skyline view from the river."
Catalinas Rio occupies a significant portion of Buenos Aires' new Catalinas Norte II master plan, a major public endeavour to transform underutilized railyards along the Rio de la Plata to extend the city's business district. By building over former railways and moving highways below grade, the development will bring the city closer to the waterfront and establish a new destination. The project will be located on Catalinas Norte II's largest site - three of the district expansion's seven lots, positioned in one horizontal row along the waterfront.
SEE ALSO:
SNC-Lavalin subsidiary Atkins unveils Ryanair office campus design
Gensler reveals design for temporary Pavillon Notre Dame
Peel L&P reveals design for Everton's new Premier League football stadium in Liverpool, UK
Read the latest issue of Construction Global here
SOM Design Partner Gary Haney commented: The result is an unorthodox solution that aims to set a precedent in Buenos Aires office design, with a primary focus on wellness, open space, and creating a new urban identity."
"The building itself is conceived as a vertical campus," said SOM Director Kim Van Holsbeke. "It is a single structure that continues the vibrancy of the urban square up to the office floors."
The project's two towers, one that rises 29 floors and another that spans 22 levels, are connected by large, multi-story, trapezoidal floorplates that act as bridges and one of the building's essential wellness features. Together, the towers and bridge floors form an urban window and establish the active heart of the office experience. Large, landscaped decks cross both bridge roofs, and are complemented by recessed balconies in the tower floors to provide sweeping views of both the waterfront and cityscape. The terrace configuration is strategically designed to provide outdoor space through all seasons and weather conditions—with the roof decks drawing sunlight on clear days and the tower balconies providing shade in the heat and rain. In total, the terraces offer 10,000 square meters of permeable outdoor space.
The building is targeting LEED Gold Certification and construction is anticipated to be completed in 2022.