Top 10 'Funky' Constructions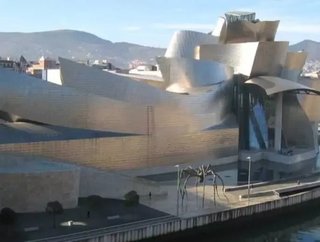 10. Guggenheim Museum, Bilbao, SpainOpened in 1997 by King Juan Carlos, this museum of modern and abstract art appears to draw architectural inspiration...
10. Guggenheim Museum, Bilbao, Spain
Opened in 1997 by King Juan Carlos, this museum of modern and abstract art appears to draw architectural inspiration from its contents. The complex consists of interconnected free-form titanium-sheathed buildings, and is widely regarded as an important work of contemporary building design.
9. Hallgrímskirkja church, Reykjavik, Iceland
This Lutheran parish church in Reykjavík, Iceland is, at 74.5 metres tall, the largest church in the country. Named after 17th century poet and clergyman Hallgrímur Pétursson, the imposing structure was designed by state architect Guðjón Samúelsson to resemble the basalt lava flows of Iceland's landscape.
8. House Attack, Vienna, Austria
Abstract artist Erwin Wurm collaborated with the Mumok Museum in 2006 to add a rather eye-catching feature to the building's architecture. The aptly named "House Attack" installation gives the impression of a residence having fallen from the skies to become lodged in the museum's facade.
7. Dynamic Tower, Dubai, UAE
The brainchild of architect Dr David Fisher, the 100 percent renewably-powered Dynamic Tower will, when it finally gets off the ground after delays, adjust itself to the sun, wind, weather and views by rotating each floor separately, and never appear the same twice. A potential climber in future lists.
6. Habitat 67, Montreal, Canada
Montreal's Habitat 67 is a model community and housing complex designed by Israeli–Canadian architect Moshe Safdie for his master's thesis in architecture. Featuring 367 irregularly interlocking units, it was originally conceived as a comment on the way future generations would cope with urban overcrowding.
5. Nautilus House, Mexico City outskirts, Mexico
Built in 2006 by visionary Mexican architect Javier Senosiain, Nautilus House was designed to mimic the experience of being the internal inhabitant of a shell. In order to better replicate the asymmetry of its inspiration, neither the walls, ceiling or floor run parallel.
4. La Pedrera, Barcelona, Spain
Also known as Casa Mila, Barcelona's La Pedrera, (translated as 'The Quarry'), was innovatively designed by the Catalan architect Antoni Gaudí to be a self-supporting apartment and office complex.
Having celebrated its centenary last year, the site currently serves as the headquarters of the Catalan Foundation for Research and Innovation.
3. Krzywy Domek (Crooked House), Sopot, Poland
Sopot, Poland's Krzywy Domek, literally translated as the Crooked House, was built in 2004 as part of the town's Rezydent shopping center, and has an area of approximately 4,000 square meters. Designers Szotyńscy & Zaleski drew inspiration from a fairytale illustration by Jan Marcin Szancer. 
2. National Theatre, Beijing, China
The impressive architecture of Beijing's National Centre for the Performing Arts consists of an ellipsoid dome fashioned from titanium and glass. Combined with its reflection in the surrounding artificial lake, underneath which the potential 5,452 audience members enter, the Centre somewhat resembles a zeppelin.
1 Nationale-Nederlanden Building, Prague, Czech Republic 
The Dancing House, nicknamed Fred and Ginger by one of its designers after dancers Fred Astaire and Ginger Rogers, is the more commonly used title for Prague's bizarre Nationale-Nederlanden building.
Designed in 1992 in a collaboration between architects Vlado Milunić and dance-fan Frank Gehry, the contorted residence is situated on a vacant riverfront plot, and drew criticism at the time from traditionalists who felt the unconventional nature of the architecture was not in-keeping with the Baroque, Gothic and Art Nouveau buildings for which the Czech capital is famous.
Former Czech president, Václav Havel, was for decades a neighbour to the Dancing House, and had been one of the projects most vociferous advocates, in the belief that the building had the potential to become a centre for cultural activity in the city.
Construction was completed in 1996, and the Dancing House has remained a photo-hotspot for tourists ever since.