Ultimate Outdoor Entertainment unveils 50-foot screen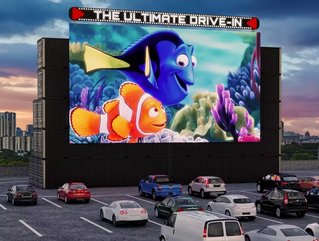 The giant 50-foot-wide LED video screen from Ultimate Outdoor Entertainment took more than a year to design and build
America's love affair with big-screen experiences - combined with safe viewing needs during the pandemic - has led to the unveiling of the Ultimate Drive-in 50-foot screen at Rooftop Cinema Club in Santa Monica Airport.
The new Drive-In/Drive-Up hybrid cinema experience, more than a year in the making, features Personal Lawn Boxes complete with your own private deckchairs and shareable side table, parking for 100 cars, FM radio for in-car viewers and options for wireless LED headphones as well as a customer mobile audio app, according to Ultimate Outdoor Entertainment (UOE).
Darrell Landers, Chief Technology Officer for UOE said the real star of the show is the new 50-foot-wide LED video screen, featuring the very latest in LED technology. "With nearly 4K resolution and brilliant new LEDs featuring 8,000 NITS of brightness and specially designed individual LEDs with bright white tips and shroud-like black-bodies, this screen has incredible illumination, while simultaneously rejecting direct sunlight, resulting in an impressive high definition viewing experience – day or night."
Unlike projection screens, the new LED video screen we custom built for Rooftop Cinema Club isn't limited to night-time use, added Laura Landers, President & CEO. "Super bright LED screens open up a ton of other content options for our clients, such as early matinee screenings for family friendly movies, daytime drive-in's, live TV events, tailgating, digital streaming and more."
Founded in 2008 in Austin, UOE aims to revolutionise indoor and outdoor video experiences, through LED technologies for permanent, semi-permanent and mobile LED screens.
The Large Format Display Market has witnessed many key technological advancements in the past few years, such as direct-view fine-pixel LED display technology and the narrow bezel LCD displays. The previously used bulky and space-consuming displays have evolved into bezel-less and slim displays. 
The global outdoor LED display market, valued at $7.42 billion in 2019, is projected to reach $11.86 billion by 2027, registering a CAGR of 9.20% from 2020 to 2027, forecasts Allied Market Research.