Unique & beautiful religious builds from around the world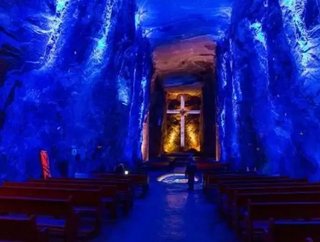 Traditional churches have a regular structure which is recognised worldwide. Utilised for religious services, we look at eight unique, beautiful church...
Traditional churches have a regular structure which is recognised worldwide. Utilised for religious services, we look at eight unique, beautiful church builds, attracting locals and tourists due to their distinctive profiles throughout the world, celebrating both traditional and modern architecture
Thorncrown Chapel, Eureka Springs, Arkansas
Since its opening in 1980, the Thorncrown Chapel has attracted over six million people and is popular as a wedding venue as a result of its romantic woodland setting.
Designed by architect E. Fay Jones, the chapel has won numerous awards. The strong wooden structure contains over 400 glass windows, creating a light airy space and sense of tranquillity.
Wat Pa Maha Chedi Kaew, Thailand
Renowned as the Buddhist temple constructed from over one million bottles, Wat Pa Maha Chedi Kaew construction began in 1984 by local Buddhist monks, but has since been expanded. The bottles are pushed into the concrete walls, providing a stable structure.
The sustainable, eco-friendly build encourages local citizens to care for the environment, at which over 15 more builds have since been constructed with local bottles to reduce the levels of carbon emitted. The glass also allows sufficient light to enter the building.
Bottle caps are also utilised to create mosaics within the temple.
Device to Root Out Evil, Canada
Previously situated within Vancouver, this upside down church is now placed within Calgary. Named the 'Device to Root out Evil', the church was designed by New York artist Dennis Oppenheim.
Constructed with steel, aluminium and glass in order to fix the sculpture in its unique position, the piece has faced controversy due to its position, with the steeple facing hell rather than the heavens above.
Bone Church, Czech Republic
The bone church, situated within Kutná Hora has become a unique tourist attraction, with over 200,000 visitors annually and has become one of the most popular World Heritage Sites in the Czech Republic.
The ossuary has incorporated the skeletons of over 40,000 people and created interior decorations such as chandeliers and bells.
The skeletons were exhumed and the burial grounds expanded to accommodate for increased numbers deaths as a result of the Black Death and Hussite Wars
Church of Saint George, Ethiopia
Situated within Lalibela, the Church of Saint George has become a UNESCO World Heritage Site, and is part of the 11 monolithic temples in Ethiopia.
The 12th century church is constructed from tufu and is connected to the various monolithic temples through passageways beneath the church.
Salt Cathedral of Zipaquira, Colombia
Constructed 200 metres underground within a halite mountain lies the renowned Salt Cathedral, situated within Colombia, which has become part of the region's Parque de la Sal.
Prior to the church's current construction, a previous church was built for miners who wished to have a religious sanctuary near their place of work. The new, current build has ensured the area is stable, with structural changes and maintenance works, split into three sections, representing the lifecycle of Jesus.
Heddal Stave Church, Norway
Constructed in the 13th century, the Heddal Stave Church is one of Norway's best preserved religious structures and is largest remaining stave church.
Built with pine, the church has gone through numerous restorations, but is a popular venue for weddings due to its rustic charm.
Tree Cathedral, Italy
The Tree Cathedral within Italy is one of the most unusual church's in the world, with over 1,800 stakes of fir, 600 branches of chestnut and 6,000 metres of hazel branches implemented within its construction.
Designed by Italian artist Giuliano Mauri and created through the traditional art of weaving, the church is a celebration of sustainable architecture. The use of organic, living materials will ensure the trees will continually provide substantial support.
See through church – Belgium
Named as 'Reading Between the Lines', this see through church in Belgium is a church like no other, with over 100 layers of steel within its construction.
Designed by Pieterjan Gijs and Arnout Van Vaerenbergh, the build can disappear if viewed from a certain angle, at which the church is unique and beautiful in its creation.
Follow @ConstructionGL
Read the September 2016 issue of Construction Global magazine