URB to develop US$20bn sustainable city in South Africa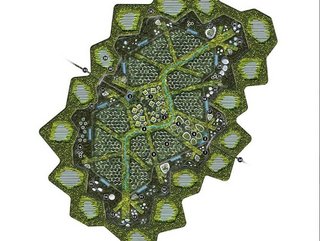 An elevated view of The Parks project. Planned for the eastern region of South Africa, it will promote a net-zero lifestyle, contain a variety of mixed-use hubs, and will become Africa's largest sustainable city.
17sqkm project will become the largest sustainable city on the African continent, housing 150,000 residents and promoting a net-zero lifestyle
URB, the Dubai-based developer, has revealed plans for The Parks, a 17-square-kilometre project that will become Africa's largest sustainable city and will have a development value of US$20 billion.
In a statement, URB said that the project aims to provide the world's highest standard for sustainable living and will be home to an expected 150,000 residents. Planned for the eastern region of South Africa, the project will promote a net-zero lifestyle and will contain a variety of mixed-use hubs.
These include residential, medical, tourism, entertainment, retail and education sectors, and it will produce 100% of its own energy, water and food on site, making it a self-sufficient destination, the developer added.
There are a planned 40,000 residential units that will be distributed across 12 residential districts, it continued.
Baharash Bagherian, CEO of URB, has spearheaded the designs of various sustainable cities, including recently launched projects such as Xzero, AlNama, Nexgen, and many more yet to be revealed. He highlighted the importance of The Parks as a new benchmark in sustainable cities.
"The Parks is innovatively planned with the highest standards of sustainability to create a car-free community and a unique zero-carbon destination. The development is designed from its landscape to provide the happiest and healthiest ecosystem," he said, adding that the landscape has been designed to promote social sustainability and an active lifestyle.
Guided by ecology
This concept permeates throughout the public realm of the city, Bagherian added, pointing out features such as outdoor fitness stations, community farming plots, outdoor sports courts, dedicated jogging and cycling tracks, waste-to-art public spaces, and areas for outdoor concerts and more.
He stated that the sustainable infrastructure serving the community is celebrated as features in the design, thus making them more than functional systems. He explained that these systems will add aesthetic and educational value to the development and become part of the lifestyle experience.
Green spaces are at the heart and centre of the entire development, with a 5-kilometre-long multifunctional green spine linking everything together. This will branch off to community parks and will connect residents to all of the hubs within the development in minutes, via walking, cycling or electric buggies.
There will also be more than 32 kilometres of dedicated running, cycling and equestrian tracks, the developer said, while green and safe modes of active transport will also be provided.
The master planning for the development has also been guided by ecology, URB says. The landscape has been designed to capture, treat and reuse water while conserving as much of the resource as possible. In addition, the planned landscape is highly focused on maximising health, wellness, and social interaction to create a happy environment where residents become stewards of the community, it continued.
"The housing typologies within each district will cater for all income levels, with no segregation. This will enable a truly inclusive and diverse workforce to flourish and increase community cohesion," the statement highlighted.
"Additional sustainability initiatives include the use of intelligent solutions and a smart grid system that will transform The Parks into the smartest city on earth. The city will use AI to optimise operations and blockchain technology to enhance sales and leasing," it asserted.
Finally, the developer claimed that the city will become the largest positive energy community in the world, and that it will produce a surplus of energy to neighbouring communities. Local urban food production will provide 100% of resident caloric intake, while also reducing food miles associated with carbon emissions from transport.
The city will also produce 100% of its drinking water on site via solar powered air-to-water generators, as well as recycling 100% of its water for irrigation. All waste in the city will become a resource, and a comprehensive zero-waste strategy will be adopted, which will be supported through community awareness programmes, URB said.
Biogas production from organic waste will also provide an additional source of energy, it added. Cooking oil from restaurants and kitchens will be recycled into biodiesel and used as fuel in construction for future expansions and phases of the project.
Waste minimisation in the construction and operational phases of the development will also be aligned with recycling programs, and all building materials will also be evaluated through life cycle assessments for the lowest carbon solutions, it concluded.