Walker & Dunlop arranges financing for new US landmarks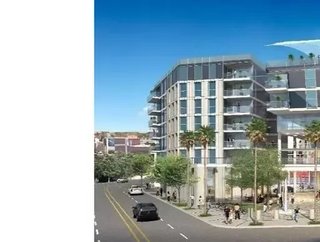 Walker & Dunlop arranges $138m loan for The Rise Hollywood which is targeting a Spring launch, among other projects...
 has arranged $138 million bridge financing for the construction of The Rise Hollywood, a 369-unit 7-story mid-rise apartment project in Los Angeles - one of a number of recent financing deals across the US.
Located in the heart of Hollywood's Entertainment District, the property features a highly walkable location and immediate access to amenities and wide range of employers, and is directly opposite Academy Square, where 350,000 square feet of Class A office space is fully leased to Netflix. 
Occupying a 2.15-acre site, the project will comprise five seven-story buildings surrounding an amenity deck. On completion in the Spring, the elevated recreation deck will include an expansive pool and spa, fire pits, barbecue areas, a rooftop deck with an outdoor movie screen, and modern, open-concept floor plans. 
Unit sizes average 758 square feet and offer a variety of floor plans ranging from studios to two bedrooms. Each of the luxury apartments will feature nine-foot ceilings, balconies with glass railings, kitchens with stainless steel appliances, quartz countertops and tile backsplashes, plank and porcelain tile flooring, central air and in-unit washer and dryers.
The bridge financing was arranged by Eric McGlynn, Managing Director within Walker & Dunlop's Capital Markets group. Leveraging their expansive network of capital partners, McGlynn's team identified Square Mile Capital Management, as the ideal lender for the project. The floating-rate loan includes a four-year term and served to refinance an existing construction loan.
The project is owned, and was developed by, Rescore Property Corp. Rescore is a private REIT managed by Encore Capital Management, manager of three fund vehicles with over $3 billion in assets under management and whose principals are Art Falcone and Tony Avila. Encore, based in Boca Raton, Florida, has 20,000 residential units under ownership and/or development.
Hollywood has become one of L.A.'s fastest-growing office markets, attracting more than $5 billion investment since 2000. Ground was recently broken on the Hollywood Arts Collective, an affordable housing and mixed-use art center valued at $120 million, according to project developers.
Walker & Dunlop has also structured $205 million in financing for 619 West 54th Street, located in the heart of Manhattan's Midtown West neighborhood. 
Other deals include $91 million in financing for the acquisition of the LEED-certified Bank of America Tower in Jackonsville and 65 East State Street in Columbus. Both properties have undergone several millions of dollars in capital improvements, positioning them as the premier office towers in their respective locations. 
Q4 2020 revenues totalled $349.7 million, up 61% year-on-year, and its Drive to '25 strategy aims to position the firm as the premier commercial real estate finance company in the United States.