CyrusOne breaks ground on Ireland's largest colocation data centre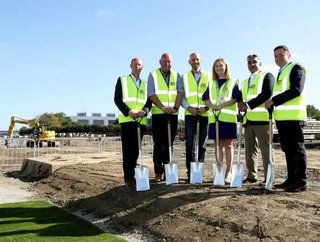 CyrusOne has broken ground for its first data centre campus in Dublin, Ireland. The facility's phase one will open to customers in Q4 2020 with a tota...
CyrusOne has broken ground for its first data centre campus in Dublin, Ireland. The facility's phase one will open to customers in Q4 2020 with a total power of 74MW when complete.
Tesh Durvasula, CyrusOne's President - Europe, hosted an event this week to mark the beginning of construction for its new Dublin I data centre site. It showcased the work CyrusOne is undertaking for the development of Dublin I, as well as partnering with Ireland's most experienced data construction teams and the company's extensive efforts to ensure a sustainable build and to preserve local wildlife. 
Upon completion, the Dublin I campus will comprise three separate two-story buildings, offering 360,000 square feet of data centre space in one of Europe's most coveted locations. The site is the largest colocation data centre currently under construction in Ireland. The build will follow CyrusOne's Massively Modular approach, designed to reduce the time, complexity and cost associated with major data center builds, increasing project efficiency.
The facility will be among the first CyrusOne data centres in Europe to deploy closed loop chilled-water cooling. This highly efficient system uses an air-cooled chiller technology with an integrated compressor and condenser that cools the closed loop of water, dramatically reducing water consumption during the cooling process.
SEE ALSO:
T5 Data Centres to triple staff in support of new contracts
Flexential drives digital transformation through a robust and holistic data
How RagingWire Data Centers designs, builds, and operates mission-critical data centers
Read the latest issue of Construction Global here
Additionally, the site supports CyrusOne's goal of sourcing from 100% renewable sources with roof-mounted solar panels designed to supplement main power supply. The development will also boast rejuvenated grassland areas, pollinator-friendly planting and a habitat for amphibian wildlife. A 'green wall' around the site will help make the buildings more energy efficient and act as carbon sinks reducing carbon emissions. 
"Ireland is an incredibly attractive place to do business, and Dublin in particular has established itself as one of the world's thriving tech hubs," said CyrusOne's President - Europe, Durvasula. "The level of demand for spaces from enterprise customers has been great, even in these early stages of construction.
"We've made a clear commitment to expansion in Europe and building our presence in Dublin sits at the centre of this strategy. Our modular approach, which enables us to build data centers quickly and efficiently, is perfectly suited to such a vibrant market where demand is expected to accelerate over time," he concluded.
CyrusOne is a high-growth real estate investment trust (REIT) specialising in highly reliable enterprise-class, carrier-neutral data centre properties. The Company provides mission-critical data centre facilities that protect and ensure the continued operation of IT infrastructure for approximately 1,000 customers, including more than 200 Fortune 1000 companies.