Southerns Broadstock creates digital workspaces for NHS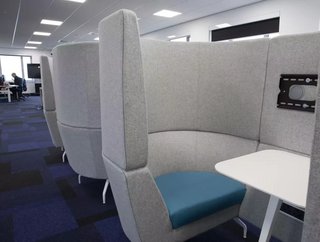 Southerns Broadstock was tasked with creating new versatile digital workspaces for NHS Regatta House in Liverpool
In a post-Covid environment, NHS England and NHS Improvement decided to rethink the anatomy of their workplace interiors. The brief provided to Southerns Broadstock was to create Digital Workspaces for Regatta House in Liverpool to support staff and give them space to complete tasks in ways that suited them best.

Encouraging new ways of working
Digital Workspaces aims to create spaces that capture the spectrum of the four Cs: Concentration, Contemplation, Connection and Collaboration. These values remove the rigidity of traditional workspaces. Digital Workspaces instead encourage versatility and give staff the option to choose the surroundings that match their current workload. With this in mind, Southernsbroadstock designed an interior to balance these four space types and deliver a complete solution to meet client and staff requirements.

Creating separate environments
Intelligent choice of furniture was key to the Regatta House fit-out. It furnished areas with two-seater and single-seater pods to give staff a quiet place to focus, or to collaborate as a duo without disturbance. Spaces for collaboration were created by combining our Bowcliffe Sit chairs and Bowcliffe tables in multiple configurations to suit smaller or larger teams. While the majority of furniture was styled with NHS colours, it added bolder accents to provide a vibrant and motivating interior.

Accessibility for all
A key requirement was to make all areas as accessible as possible. This included the addition of adjustable height desks to allow every workspace to be tailored to the individual. The added benefit of this desk type is that it gives staff the option of working whilst sitting or standing, so they can keep themselves energised throughout the day. Wheelchair accessible meeting pods were also installed to ensure that all members of staff would have access to private spaces for teamwork.

Close communication
Despite the challenges posed by the pandemic, Southernsbroadstock liaised with NHS England regularly so that all parties were informed about progress. 
Google Workspace and Miro collaboration
Google Workspace and Miro, an online collaboration whiteboard platform, recently announced a new partnership to help teams collaborate more easily and effectively, virtually or in-person. Integrated functionality in Google Workspace and Miro will make it easier for teams to ideate and co-create both asynchronously and in real time within Google Meet and across Google Docs, Sheets and Slides.
A study from Accenture found that 83% of respondents identified a hybrid model as being optimal in the future. With more organizations becoming hybrid and digital-first, the need for tools that facilitate seamless engagement, innovation, and collaboration equity amongst teams has never been greater.
"Teams are expected to work well together across locations and boundaries, and so should their workplace applications and tools," said Adrienne McCallister, VP, Global Partnerships, Google Workspace. "By bringing together helpful tools to boost engagement, innovation, and creativity in meetings, workshops, design sprints and more, this integration with Miro will give our 3 billion users a flexible solution, especially for a hybrid work environment."
As workspaces are redesigned, companies will likely add new roles in facilities management. Workers specialising in areas such as ventilation and elevator operations will become more important, as will custodians and caterers, according to McKinsey research.