XYZ marks global launch and unveils Atom AR headset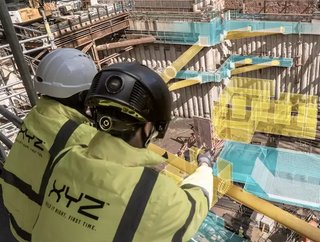 AR displays and in-built computing power of HoloSite enables the Atom to provide engineering-grade technology and millimetre accuracy
XYZ Reality has ambitions of becoming a market-leading ConTech company as it marks its commercial launch today and unveils The Atom Augmented Reality (AR) headset.
Over the last two years during its restricted commercial programme, XYZ Reality has deployed its technology to projects valued at over £1.5 billion working with selected customers on several complex projects, such as data centres, pharmaceutical facilities and airports. A $20 million Series A funding round closed in June.
The company claims The Atom is the most accurate AR tool for construction, combining a safety-certified hardhat, AR displays and in-built computing power of HoloSite, which enables the device to provide BIM onsite to millimetre accuracy.
The engineering-grade tool makes the entire construction journey safer, smarter and more efficient, reducing waste, de-risking processes and delivering bottom line benefits for contractor and asset owner alike.
XYZ Reality, which is establishing a US headquarters, has seen a sharp increase in demand among megaproject asset owners and general contractors' appetite for the proprietary solution..
Founder & CEO David Mitchell said technology is transforming the way the construction industry operates, enabling contractors to deliver higher-quality more efficiently.
"Since inception, we have seen a greater understanding of the potential of AR to achieve better outcomes and improve margins. This commercial launch is a definitive proof point of our product's value and the substantial appetite for it across the industry, particularly on mission critical projects where the highest levels of accuracy are required," he said.
"Our entry into North America was spearheaded by current partners who are bringing us to the all-important territory. The market presents an exciting growth opportunity and is now supported with 'The Atom', which has been designed to show just how easy it is to work with our technology on-site."
Coral Butler, Group Head of Digitally enabled Lean Project Delivery (DePLD), PM Group, an early-adopter of XYZ Reality's HoloSite, said it has been working with XYZ Reality since the beginning and impressed with how their powerful AR technology has been able to significantly increase efficiency and improve quality across multiple mission critical projects.
"The Atom has taken it to the next level. What's so important is that The Atom has been developed by construction, for construction," she said. 
Last month Trimble added the Trimble Connect AR app which gives construction workers greater accessibility to 3D models in the field. The app runs on Android and iOS tablets and smartphones. 
"The ability to view a digital model at scale, on site and in context from a mobile device is a game changer," said Martin Holmgren, general manager, Building Construction Field Solutions at Trimble. "Anyone on a jobsite with Connect AR and a smartphone or tablet can now easily identify clashes, verify as-builts and collaborate to quickly resolve issues."