6 tallest skyscrapers in Bangkok, Thailand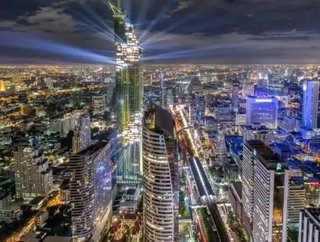 With a population of over 8 million and consequent rapid growth and developmentwithin Thialand, we look at several of the tallest skyscrapers within Ban...
With a population of over 8 million and consequent rapid growth and development within Thialand, we look at several of the tallest skyscrapers within Bangkok which cater for both locals and tourists within the region.
MahaNakhon
Completed in August 2016, the MahaNakhon is the tallest skyscraper in Bangkok at 1,030 ft. Also known as the Ritz Carlton Residences and Edition Hotel, the construction is a mixed-use development, incorporating 77 floors, with retail stores, restaurants, a boutique hotel and up-market residential dwellings.
Developed by PACE Development Corporation at a total cost of $620 million, the concrete build has won multiple awards, winning Best Thailand Development (2014), Best Mixed Use and Best Residential and Best Residential Highrise, amongst others.
Baivoke Tower II
Completed in 1999, the Baivoke Tower II is 997 ft and incorporates the Baiyoke Sky Hotel, with 658 rooms which provide stunning views of the city.
On the 77th floor, guests can visit the observation deck, in addition to dinner with iconic views, with further views on the 84th floors which allow guests to see a 360-degree view of the city, with the Gulf of Thailand in the distance.
The River South Tower
Winning the Award for "Best Luxury Condo Bangkok" in 2012, the River South Tower is the third tallest building in Bangkok at 955 ft.
Completed in 2012, the concrete build is situated close to the Chao Phraya River and consists of residential dwellings and communal spaces, such as a gym, swimming pools, gardens and retail areas.
State Tower
With two hotels based within one building, in addition to rental homes, retail and offices, State Tower is impressive in its design and complexity.
Designed by Rangsan Architecutre, the 810 ft construction incorporates 68 floors and a restaurant providing a 360-degree view of the city, winning multiple awards and continues to impress guests who stay within the facility.
Magnolias Ratchadamri Boulevard
With 56 floors, featuring a hotel, commercial, office and residential spaces, the Magnolas Ratchadamri Boulveard provides panoramic views and has been constructed to abide by the Thai 2009 Green Building Code and the Leadership in Energy and Environmental Design (LEED). The construction has been meticulously constructed to represent the shape of a magnolia flower.
Situated close by are several retail outlets, educational facilities and restaurants.
Completed in 2015, the 787 ft build adopts sustainable features, with photovoltaic panels placed within the roofs of the penthouse suites, influencing residents water usage, in addition to the incorporation of insulated glazing, which provides energy saving advantages.
Centara Grand and Bangkok Convention Centre
At 771 ft, the Centara Grand and Bangkok Convention Centre features an up-market hotel, with 55 floors, featuring an array of restaurants, retail outlets and corporate and fitness facilities.
Follow @ConstructionGL
Read the September 2016 issue of Construction Global magazine