How will green infrastructure shape the construction industry?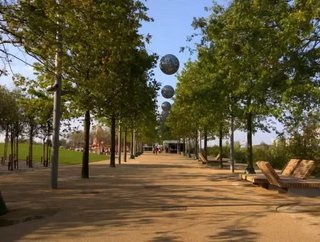 "Green infrastructure has become a central focal point for both architects and landscape architects over the past five years, and the prominence and t...
"Green infrastructure has become a central focal point for both architects and landscape architects over the past five years, and the prominence and the way in which it has been treated has increased significantly," explains Paul Lincoln, Deputy CEO at Landscape Institute UK at Ecobuild, London.
Climate change is costing £3 billion per annum, leading construction workers to play a significant role in developing healthy city environments.
Environmental, economic and social drivers are all linking with the subsequent rise of green building and utilisation of renewable resources within new and existing building projects.
"What we need to do is bring green construction into the mainstream and move away from the idea that green infrastructure and landscaping is something we can do at the end, or if we have enough money for it," comments Tom Armour, Leader of Global Landscape Architecture at Arup.
Becoming a fundamental part of construction and design, construction companies and architects are increasingly aiming to integrate the natural world into new and existing buildings in order to build healthier cities.
However, the way construction companies retrofit cities, towns and villages by implementing green infrastructure requires different ways of thinking.
For example, climate proofing cities and providing sufficient buffers from extreme weather will provide healthier living environments and increased quality of living, in comparison to areas which are often abused in city environments, such as water and high energy usage. 
Behind the development of iconic landmarks Gardens by the Bay and the future development of the Royal Botanic Gardens in Sydney, Andrew Grant, founder of Grant Associates says: "Green construction and how we design for that has two aspects to it One is mechanics, how we calculate the benefits and promote it, the other one is how we think about the quality of life or people who inhabit this space. "
"The way we operate is changing - we need a different language, ways of working, and we need to think much more three dimensional and holistically about projects. We start to worry about systems, water management alongside the aesthetic, the visual, the spatial. Green infrastructure has brought another way of thinking."
With an even larger proportion of the world's population set to move into cities by 2050, construction companies will need to think long-term from a strategic planning point of view with regards to new and developing projects.
Arup's regeneration project in London, for example, provides 22 new bridges and an accessible green space at the Olympic Park, creating a calm space for tourists, locals and families.
Visitor levels have increased significantly, in addition to an increased level of biodiversity in the area. Additionally, Arup's installation of 'living walls' in London, where a vertical green wall has been factored into redevelopments, reduces pollution throughout, offers something new to think about.
With this in mind, throughout the UK and Asia, Grant Associates has been implementing green infrastructure, undergoing regeneration projects to provide a higher quality of life for residents.
Trees and hedges have been added in new projects, and streets have been reconditioned, enabling increased collaboration between cost consultants, engineers, safety inspectors, highway individuals, amongst many others.
"Trees are fundamental to the future of cities to allow us to maintain the environment that we need," explains Grant. "The transformation of streets from something very traditional to something rich and biodiverse is the big challenge."
One such complex example of green building and infrastructure is the Bosco Verticale in Milan. Designed by Boeri Studio, the urban forest houses over 800 trees, which would normally cover two hectares of land.
Spanning 27 floors, the development tackles the rising levels of air pollution in the city and integrates nature within existing buildings. Similarly, Atocha Train Station in Madrid houses an indoor botanical garden, therefore integrating nature within its design, creating a calm, tranquil space.
By utilising existing spaces efficiently, Grant says "it's about how do we reform our spaces and recondition our world. It's about people and the quality of life within this environment; recycling materials, launching a creative ecosystem for art and participation." One such project completed to international acclaim, Singapore's Gardens by the Bay adopts an embedded energy cycle, integrated systems and exceptional landscaping.
Spanning a total of 101 hectares, the gardens have become a main gathering space in Singapore, attracting over 25 million visitors worldwide.
All water is collected and fed back into the lakes and ecosystem, with two self-sufficient glass biomed conservatories and manmade supertrees that incorporate a continuous energy cycle.
The relationship between buildings and cities is one which is forever being broken down with the implementation of green infrastructures, where the gardens will now be connected through a 150km Round Cycle Island Route, enabling cyclists to travel around the island.
Grant adds: "With a beautiful, complex city, what is that relationship and what does it mean to the city? Participation and collaboration, makes it worthwhile."
Quoting Darwin, Grant concludes: "In the long history of humankind (and animal kind, too), those who learned to collaborate and improvise most effectively have prevailed."
By bringing sustainable building and green infrastructure into the mainstream, cities will become healthier and drive further efficiencies.
With the implementation of new technologies and processes, the construction sector is in transition, at which the role of designers and architects will become increasingly vital in driving these transformations in years to come.