The Senate Democrats are to release their $1 trillion infrastructure plan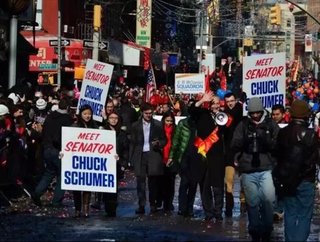 As part of his 'America First vision, President Donald Trump pledged to invest $1 trillion in the US infrastructure, which is in need of strengthe...
As part of his 'America First' vision, President Donald Trump pledged to invest $1 trillion in the US' infrastructure, which is in need of strengthening and modernisation to reflect country's current population growth. Since his inauguration, Senate Democrats have been working behind the scenes to draft up a potential plan in driving this to fruition, according to the Washington Post.
Focusing on the development and construction of roads, bridges, highways, airports and various other transportation networks, the works would provide economic growth and increased employment for construction workers with over 10,000 new roles over 10 years. However, funding for these works, let alone the scale of these investments and building works, have yet to be finalised and agreed.
Led by Senate Minority Leader Chuck Schumer, the Senate Democrats have stated to ABC News, "Senate Democrats are walking the walk on repairing and rebuilding our nation's crumbling infrastructure." We ask President Trump to support this common sense, comprehensive approach."
Although Democrats have claimed the government should be footing the bill, there are already significant debts to keep in mind, yet to place the financial responsibility to the financial sector could lead to the potential for companies to effectively 'cut-corners', or could also lead to an increase in bridges and toll roads, which are not favoured by commuters throughout America.
The American Society of Civil Engineers have stated that by 2020, in order to improve the country's infrastructure, approximately $3.6 trillion will be required in order to prevent future casualties. Trump's pledge to provide tax credits for private companies to undertake such vast work could prove lucrative, yet despite this, alongside the potential for thousands of new construction roles, is this enough to improve the US' infrastructure?
Read the January 2017 issue of Construction Global here