UK reveals 15-year vision to revolutionize construction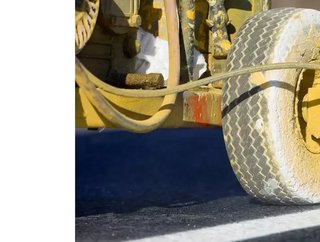 A digital revolution in the United Kingdom's construction industry just what the nation needs to increase productivity whilst rendering cost savings...
Highways England, the UK's transport government body, has revealed the launch of a 15-year plan which aims to accelerate the use of cutting-edge technology in the nations construction sector, particularly for infrastructure work.
We've already seen connected and autonomous plants (CAP) being used to transform various activities across the country's construction sector. A solid example of this is the adoption of robotic trucks on the recently opened A14 improvement, one of Britain's biggest road projects in recent years.
Driverless machines are estimated to push up productivity to the value of £400bn over the next two decades. Workers' health and safety is also set to benefit from the use of these machines, bringing accident rates down considerably.
Highways England has teamed up with TRL and the Infrastructure Industry Innovation Partnership (i3P) to set out a roadmap to push for CAP techniques to become standard by 2035.
Chief Executive of Highways England, Jim O'Sullivan, said: "Connected and autonomous plant will make work safer and quicker. The Roadmap lays out the benefits and addresses the barriers to making this a reality. We are confident the Roadmap will help our supply chain to rapidly make this the norm on our worksites."
The CAP roadmap was produced in collaboration with over 100 industry stakeholders. The main predictions of the technology adoption are as follows
Slash fatalities by over a third

Boost productivity by £400bn in the next two decades

Annual savings of around £53bn surrounding new construction projects

Assist with almost half of all construction activities currently performed

Road construction to deliver benefits of over £3bn within the next 15 years
Mark Thurston, CEO of HS2, Britain's ambitious high-speed rail project, supported the vision, saying: "This work charts an extremely exciting and potentially game changing route as to how we operate our sites as we build Britain. My challenge to our industry is to take the steps we can take today to improve our future, moving forwards together to make our people more efficient, and safer than ever."
Nine workstreams focusing on key areas has been set out in the roadmap, Chief Technologist at TRL, Alex Wright, stated: "The CAP roadmap has been developed collaboratively with more than 75 organisations. Through a wide variety of questionnaires and workshops, we identified the actions required to overcome the various technical, business and legislative challenges to delivering the vision. Overall, the Roadmap brings together nine pathways which have been identified to deliver success by 2035. This includes elements from legislation, regulation and policy as well as factors facilitating finance and investment and an understanding of the skills gaps."
Highways England is already utilising CAP plant in key areas. Also it's only in the trial stages, the firm is set to roll it out across many more infrastructure projects into the future.
The trucks which were used in the A14 Cambridge to Huntingdon improvement project were programmed to follow a predetermined route as they drove along the road whilst detecting and avoiding any obstacles en-route.
The technology can also provide increased efficiency as they provide the potential to round-the-clock working whilst allowing jobs to be moved to other skilled areas.