Microsoft HoloLens: What's next?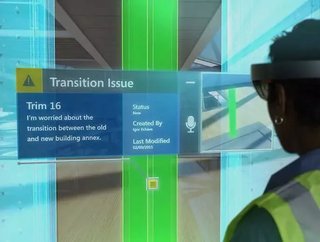 Since its launch in 2016, Microsoft HoloLens has provided an increased awareness of augmented and mixed reality, where the technology is now available i...
Since its launch in 2016, Microsoft HoloLens has provided an increased awareness of augmented and mixed reality, where the technology is now available in With aims to the Microsoft HoloLens has been rapidly growing in popularity and significance, setting a precedent and a subsequent rise in competition within a multitude of industries, with over 150 mixed reality apps available in Windows Store and increasing number of competitors within the technological sphere.
Uitlising Windows 10, the holographic computer is just over a year old, but has been viewed as revolutionary, especially within construction and design. Developed and refined to enable the development of innovative and exciting projects, builds are now delivered ahead of schedule, on budget and at reduced cost. We spoke with Microsoft to see how the HoloLens continues to drive support worldwide.
What's been happening?
Enabling users to interact with holograms, which is blended with real world content, Greg Sullivan, Director at Microsoftexplains:
We previously featured the Microsoft HoloLens and spoke with Aviad Almagor, Director of the Mixed Reality Programme at Trimble, who has been utilising the HoloLens to interact with design data more intuitively. Since the start of this year, the HoloLens has come on in leaps and bounds, supporting Architecture, Engineering, Construction and Operations (AECO) professionals in undertaking high quality operations and bringing 3D models to life. Such developments have increased collaboration worldwide and enabled users to explore designs in 3D without expert guidance. This echoes Almagor's previous statement, "Mixed Reality brings 3D data to life and puts information in the user's hands without the need to change or adjust the data format."
Microsoft's SketchUp Viewer was launched at the end of last year, the first commercial HoloLens application to support professionals undertaking 3D modelling. Lorraine Bardeen, General Manager of Microsoft HoloLens and Windows Experiences explains that the application "allows people to create improved collaboration and a better understanding of designs in real scale, empowering companies to be more innovative and efficient."
Such developments have also led to the establishment of a number of pilot projects aimed at delivering time and cost benefits to construction projects. The establishment of Automated Progress Monitoring has enabled the reduction of repetitive manual work, where information can now be viewed and stored digitally via a centralised system, providing the ability for cross-referencing and the documentation of vital information. This concept has been highly effective in areas such as bridge maintenance, where Microsoft has also developed Automated Bridge Damage Protection. Bardeen explains: "High-resolution images can be taken by local teams and sent to inspection engineers, where these are automatically mapped onto 3D models of the respective bridge. Structural engineers can then review the integrity of a bridge in mixed reality using HoloLens, making recommendations for repairs or other preventative measures." This process increases the safety levels of bridges, reduces potential disruption and increases efficiency.
Sharing knowledge
Whilst the HoloLens has encouraged collaboration worldwide, its drawbacks have also been highlighted. Unless both parties wear the headset, it proved complicated for workers to showcase new designs or innovations, limiting information sharing significantly. This has therefore led to the development of Microsoft's Spectator View Camera, released in February 2017. The technology effectively supports collaboration and developing partnerships by enabling spectators to see what the user sees and learn how various ideas will help shape future projects.
Nonetheless, Microsoft could not provide all of these developments alone. With a number of commercial partners such as Vuforia, the company continually works in partnerships to develop new tools, products and platforms which will further support professionals within the AECO industry. One such partnership is with Autodesk Fusion 360, where Microsoft utilises Autodesk's software to provide solutions and support collaboration between engineers and designers. A second partnership with Japan Airlines (JAL) has also supported the development of two programs which support engine mechanics and flight crew trainees who now utilise holograms within training operations, rather than undergoing operations manually.
Furthermore, Microsoft has partnered with medical company Stryker regarding the development of medical facilities, such as operating rooms, with the use of embedded mixed reality technology. Bardeen explains that technology company Stryker will bring operating room designs into the future by utilising the HoloLens and Stryker's ByDesign solution: "A design can be created and adjusted without the need of a complicated mock operating room setup. Teams of surgeons can collaborate in a conference room, office, or work with holograms, at full size and scale, in the actual operating room – no bulky equipment required, just a headset. This allows teams to move quickly from envisioning to execution, improving the operating room for surgeons, staff, and ultimately the patients they care for." Such developments will therefore enable individuals to visualise a finished product with ease.
Microsoft continue to transform how the construction industry will collaborate and communicate, supporting designers and architects and produce world-class results. It will be interesting to see how the technology will continue to inspire developers and technology giants to utilise mixed-reality technology and how it will support a multitude of industries going forward, providing quality results for customers.