Causeway Technologies buys SpecifiedBy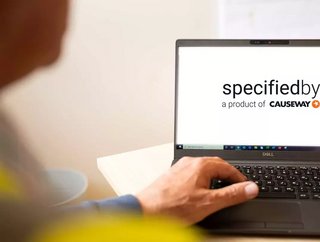 Causeway says bringing SpecifiedBy into its portfolio further strengthens digitising workflows between specifiers, buyers and suppliers
Construction technology provider Causeway Technologies has bought the building products information platform, SpecifiedBy, for an undisclosed fee.
SpecifiedBy was founded in 2013 to help architects, construction specifiers and buyers find and research building products and materials through modern search, comparison and information management tools, with the aim of creating the most comprehensive online database of products and materials in the UK. It has over 2,600 suppliers and 65,000 active monthly users.
Phil Brown, Chief Executive of Causeway, said: "Bringing SpecifiedBy into the Causeway portfolio further strengthens the workflows we are digitising between specifiers, buyers and suppliers across pre-construction intelligence, procurement, delivery and payment processes. This deal also delivers strong synergies with our earlier acquisition of Enhance, a specialist construction telemarketing company that generates qualified, actionable leads for manufacturers."
"Through all these initiatives we are linking every stage of the construction process with technology. This is a vital step towards achieving our platform vision where pre-construction and procurement phases are fully integrated, giving buyers and suppliers increased process efficiencies and data insights."
Darren Lester, Chief Executive and Founder of SpecifiedBy, said from its very first conversation, it was clear that Causeway's ambitions very much aligned with its own: to digitally connect the construction supply chain, and to transform the industry for the better through innovative software solutions.
"In just a few years, we've established SpecifiedBy as a leading product within a competitive space, through product innovation and a laser focus on the needs of our customers and users," he said. "Joining forces with Causeway's experienced team and complimentary products will ensure we continue to build on this position, increase and expand the value we provide to both specifiers and construction product manufacturers, and in the long-term, play our part in digitally enabling the global construction industry."
Causeway Technologies, established in 1999, is headquartered in Buckinghamshire in the UK, and serves over 2,500 customers and has over 350 employees. Causeway provides enterprise and cloud software solutions to the construction and infrastructure maintenance industries and spans the full value and supply chain.
Recently it spent £1.5m on a new centre for engineering excellence in Middlesbrough, which will create up to 100 new jobs. The office, located on the top floor of One Centre Square, has been designed to bring together the best in interactive technology and flexible space design to encourage a culture of innovation and collaboration.
Last month Brookbanks, a leading master developer, infrastructure manager and development consultancy, upgraded to the Causeway Professional Design Suite.