Veea and SK E&C create construction safety management system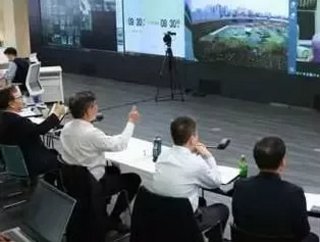 South Korean contractor works with US-based firm to combine edge computing, IIoT and AI to deliver a comprehensive safety management system...
Veea Inc has entered into a joint development agreement with South Korea's SK E&C for a construction safety management system based on the Veea Edge Platform.
By combining edge computing, Industrial Internet of Things (IIoT) technologies and artificial intelligence (AI) the joint development agreement can deliver a comprehensive safety management system that provides real-time risk and safety information to site operators and safety managers, the companies say.
"We have been working with our corporate organisation to practice better safety management, which is a core value of corporate management, and to promote digital tools to help prevent accidents. This agreement with Veea will help to establish a stronger and smarter safety platform to prevent onsite accidents," says Ahn Jae-hyun, CEO of SK E&C.
The dynamic and high-risk nature of construction sites makes it nearly impossible to use wired internet connectivity, he adds, pointing out that VeeaHubTM Smart Edge Nodes, a key element of the Smart Safety Platform, offer wireless and wired mesh networking, IoT and SD-WAN connectivity, including 4G LTE, Wi-Fi, Bluetooth, Zigbee, and LoRaWAN, making deployment and re-deployment in these environments very simple. 
The Veea Edge Platform can address the considerable demand for consuming and interacting with data-in-motion, including from live streaming data, in a highly secure manner for a wide range of applications such as Internet of Things (IoT), computer vision, Machine Learning (ML), cognitive computing with AI, Augmented Reality (AR), cybersecurity, micro-transaction processing, wearable communications and other technologies that are now driving the shift away from solely relying on cloud computing to a hybrid model with edge computing.
"SK E&C's Smart Safety Platform initiative is a perfect application for the Veea Edge Platform," says Allen Salmasi, CEO of Veea Inc. "We are thrilled to be working with the SK E&C team in creating a platform which we expect will be well recognised as the pinnacle of safety management system technology.
"The Veea Edge Platform, which extends cloud services to the edge, provides for Multi-access Edge Computing (MEC) with highly differentiated Multi-WAN Secure Access Service Edge (MW-SASE) nodes capable of running a wide range of hybrid edge-cloud applications for offering managed services in many vertical markets such as Smart Cities, Smart Buildings, Smart Energy, Smart Construction, Smart Healthcare, Smart Farming, Smart Retail and many others at the edge."
In a statement, the Veea says that all its VeeaHub models also include an edge server and computational resources to run applications in a secure virtualised environment, with integrated cybersecurity protection and IoT gateway functions. This provides cost-effective, easily deployed, network elements that create a computing and communications mesh with scalability, flexibility and operational simplicity, it explains.
VeeaHubs are also Microsoft Azure Certified for IoT, ensuring customers get IoT solutions up and running quickly through a fully integrated hardware and software platform that has been pre-tested and verified to work with Microsoft Azure IoT services, Salmasi says, pointing out that safety procedures at Smart Construction sites can be realised at much lower costs with significantly higher safety standards to prevent human injury, property damage or other disasters. 
To improve the safety performance and automate the safety processes at construction sites, real-time monitoring of construction assets and resources can now be supported by applications running on VeeaHubs with ultra-low latency while minimising the risk of mission critical monitoring and operations being affected as a result of loss of connectivity to cloud services, Salmasi says.
Integrating a real-time monitoring and early warning system at the network edge can increase the construction site safety, prevent disasters, and save lives. A monitoring and early warning system running in containerised applications is capable of collecting enormous amounts of sensory data in real-time, using ML and AI technologies to pre-process the data, and then responding to events rapidly through the early warning and event notification services.