Visionary AI tools in sharp focus in October magazine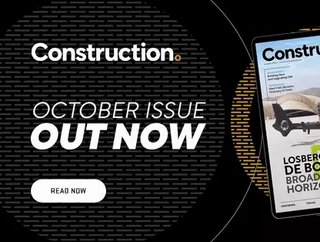 Innovative on-site construction tools are among the hot topics in Construction Global's October magazine
The October issue of Construction Global is packed with news, views and profiles, providing construction executives with the latest in operator, market and digital developments.
While construction may not have been the quickest to embrace new technologies, the industry is changing it ways – illustrated by Buildots' hard-hat mounted cameras, which leverage the power of AI and Computer Vision to detect any gaps between original designs, scheduling and site reality. You
can read all about these innovative devices in the dedicated AI feature.
Elsewhere the magazine's Upfront news section explains why Construction is the 'riskiest job' in the UK, details the start of work in the UK's Gigaplant site and highlights a new global partnership involving Lendlease and Google Cloud.
An eye-catching Timeline charts HS2's busy first year of construction, the Trailblazer section shows how Honeywell has been ringing the management changes, focusing on Vimal Kapur, President and CEO, and the '5 Mins With' section interviews Helen Arvanitakis, Director of the Design District in London, which recently opened on the Greenwich Peninsula.
The profiles section shines the spotlight on Losberger De Boer and Claroty – the former is busy branching out into medical and military sectors during the pandemic, and the latter underlines the importance of robust cybersecurity systems among industry supply chains.
A special Digital Manufacturing piece outlines the developments at the Digital Manufacturing Centre, which is set to herald a new era of UK manufacturing, incorporating latest additive manufacturing processes.

A Connectivity feature charts how developments in the cloud, IoT and digitisation spheres are starting to accelerate, and there is also an article on the growth in Smart Buildings – emphasising why it is just as important to upgrade old buildings correctly, as build new ones in these carbon-conscious times.
The magazine rounds off with a 'Top 10' listing the tallest buildings globally, which is headed by Dubai's Burj Khalifa.
Editor in Chief Dominic Ellis said: "The October issue provides a wealth of insights which will equip executives in these digitally transformative times."