Top 10 construction_global
Top 10 Australian megastructures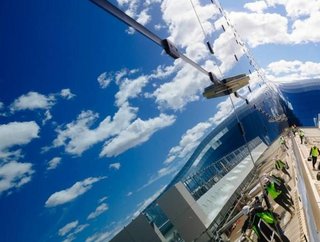 Since the end of the summer 2016, construction activity within Australia has strengthened with several proposed megastructures in the pipeline. With...
Since the end of the summer 2016, construction activity within Australia has strengthened with several proposed megastructures in the pipeline. With a population of over 24 million which is set to increase, alongside the number of high rise buildings which will be constructed to cater for this increased demand, in addition to the development of existing infrastructures.
The country is home to several iconic skyscrapers, such as the Sydney Tower and Australia 108, dominating the region's skylines.
10. Chadstone Shopping Centre: Melbourne
With over 500 shopping outlets over three floors, Chadstone Shopping Centre is the biggest shopping complex in Australia, opening its doors to 20 million individuals each year. Built by developer Novion Property Group, the shopping centre has recently been overhauled to incorporate over 50 new stores and dining areas in a $660 million project.
With over 129,000m2 of floor space, the layout of the shopping centre has also been redesigned, and the introduction of a 7000sq metre glass domed roof which has been constructed through 3D modelling, with nearly 3000 pieces of glass hand placed within the build. To accommodate for increased numbers, transport links to and from the shopping centre have also been strengthened.
9. ANZ Stadium: Sydney
Built by ObayashI Construction and Multiplex Constructions at a cost of $690 million in time for the 2000 Sydney Olympic and Paralympic Games, the ANZ Stadium in Sydney is one of the most sophisticated multi-purpose stadia in the world.
Also constructed in collaboration with architectural firm Populous and designers Bligh Lobb Sports Architects, the stadium incorporates a unique design, alongside several sustainable and energy saving features.
The 30,000sq metre translucent, polycarbonate roof has allowed increased light to enter the structure and is slightly tilted, providing sufficient shade and protection, but also collects rainwater which is stored in tanks for irrigation. 90,000 cubic metres of concrete and 12,000 tonnes of steel have been utilised within the build, alongside a billion masonry blocks.
8. Australia Square Tower: Sydney
Completed back in the 1960s and becoming Australia's first skyscraper, Australia Square has won several awards and was designed by Harry Seidler & Associates in partnership with engineer Pier Luigi Nervi.
Built by Civil and Civic Construction (now part of LendLease), with lightweight concrete, the mixed use tower has undergone extensive renovation, incorporating office space, a restaurant, bars and observation deck within its forty floors, winning several awards.
7. Sydney Airport
Sydney Airport is one of Australia's busiest hubs, but dates back to the 1920s. Over 100,000 passengers enter its doors daily, at which the airport has been extended and renovated in order to cope with this increased demand, with three main runways and seven cargo terminals, investing over $two billion on improving facilities, services and passenger safety since 2002.
The airport is seeking to undertake its plan of action, Sydney Airport's Master Plan 2033, which will enable the airport to cater for over 70 million passengers by 2033 by developing and expanding current terminals and extend taxiways and key services at the airport, all of which align with the airports desire for strong partnerships amongst the rising numbers which access the airport and utilise their services.
6. Eureka Tower: Melbourne
Designed by Fender Katsalidis Architects and built by development company Grocon with the use of more than 100,000 tonnes of concrete and 5000 tonnes of reinforced steel, the Eureka Tower has become one of the tallest buildings in Australia.
Completed in 2006 at a height of 297 metres and spanning over 90 storeys, the build incorporates over 550 apartments and over 50,000m2 of window area, creating a light and airy space. Top floors include a restaurant, in addition to a Skydeck which has become the highest in the southern hemisphere.
Tourists are able to undergo the Edge Experience, where a glass cube is able to protect groups 10ft out of the tower, where tourists can view iconic landmarks in the city 300metres from the ground.
Visitors can now also undertake The Walk Experience, described as "a specially constructed green screen set that gives the illusion that guests are crossing a tightrope – suspended high above the city of Melbourne".
5. Melbourne Cricket Ground
The Melbourne Cricket Ground is one of the most iconic builds within Melbourne. Built in 1853 close to the city within Yarra Park, the ground has been used for both military and sporting purposes, and was famously the main stadium for the 1956 Summer Olympic Games, 2006 Commonwealth Games and Cricket World Cups in 1992 and 2015.
Owned by the Government of Victoria, the area can hold up to 100,000 citizens and is home to the National Sports Museum.  The cricket ground is the largest within Australia and has an extensive sporting history. It has since been placed on the Australian National Heritage List and undergone significant restorations.
4. Q1: Queensland
Opening in 2005, the Q1 residential tower is one of the tallest buildings within Queensland, Australia with a total height of 1,058ft. Built by Sunland Construction and designed by The Buchan Group, the $307 billion tower gently twists round, removing any rigid forms which could create a negative impact upon the surrounding area, alongside the use of glass to create a beautiful but effective megastructure.
Containing a number of apartments, in addition to a ground-breaking lift system, also incorporated are two swimming pools, gym, dining area, spa, convenience store and facilities for children. Nonetheless, the most impressive element of the building is its observation deck, providing stunning views of the Gold Coast skyline.
3. Sydney Harbour Bridge 
Since its completion in 1932, Sydney Harbour Bridge has become an iconic feature within Sydney and a vital transport link, with over 200,000 cars crossing the bridge each day. At 134 metres, it is the tallest steel arch bridge in the world, carrying the heaviest weight for a bridge globally, with over six million hand driven rivets.
Designed by Dr J. J. C Bradfield, who is renowned as the sole individual responsible for encouraging his vision to come into fruition, with support from British consulting engineer Sir Ralph Freeman, based at steel manufacturer Dorman Long.
The bridge incorporates eight vehicle lanes, toll roads, a cycleway, walkway and two train lines, with a total length of 1149 metres. Over 90,000 cubic metres of concrete is within the construction, alongside 50,000 tonnes of steel. The weight of the arches is 39,000 tonnes, with a total span of 1,654ft.
To support the build, the use of concrete pylons has also been implemented, alongside several abutments.
2. Australia 108, Melbourne
Although currently under construction, Australia 108 will reach heights of 1,039ft, with 100 floors containing over a thousand apartments. Originally proposed in 2014, development company Brookfield Complex is involved in the residential building project, alongside Fender Katsalidis Architects.
With over 500 construction workers working on the $900 million development, the project is set to complete in 2020. Most planned apartments have already sold due to its unique location within Melbourne, providing spectacular views of Melbourne's CBD and gardens – it will also become the tallest residential tower in Australia.
1. Sydney Opera House
Built at a total cost of $102 million, the 600ft long, 394ft wide Sydney Opera House is now one of the most famous buildings within Australia, but has also received a 4-star Green Star Performance rating from the Green Building Council of Australia (GBCA).
Designed by Danish architect Jørn Utzon and completed by Peter Hall post his resignation, the expressionist build incorporates several precast concrete rib (or shell like) structures, built by Hornibrook Group Pty Ltd (now part of Bilfinger), which form the iconic roof design, with over one million different coloured tiles, created by Swedish firm Höganäs AB. The build is also supported through the implementation of over 550 concrete piers.
The performing arts venue took around 20 years to complete and encompasses several performance areas, becoming home to a number of performance companies, dining and retail outlets.
Read the January 2017 issue of Construction Global here