MENA region's largest indoor snow park opens in Oman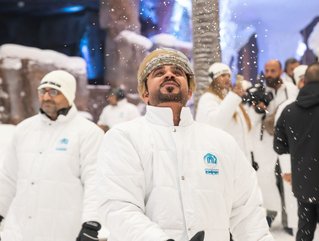 Majid Al Futtaim Entertainment opens its third snow park in the region, and the first and only indoor snow part in the Sultanate of Oman
Majid Al Futtaim Entertainment, the subsidiary of Majid Al Futtaim, the Dubai-based real estate and retail conglomerate, has launched Snow Oman, the largest indoor snow park in the MENA region and the first and only indoor snow destination in the Sultanate.
In a statement, Majid Al Futtaim Entertainment said that the park is its third in the region, after Ski Dubai, and Ski Egypt. The project underlines its commitment to delivering innovative experiences for guests across the region, it added and pointed out that it was a major milestone in its investment strategy for the Sultanate.
Featuring more than 20 family-friendly rides and attractions, Snow Oman also includes a 430-metre ice rink as well as a penguinarium, which is home to a colony of king and gen-too penguins. The 14,830 square metre destination is located in the Mall of Oman. The experience has a 'Desert Blizzard' theme, with an imaginary world where Oman's cityscapes and sand dunes are covered in real snow.
The experience will also reflect the local culture and heritage of the Sultanate as well, the developer added.
The destination's launch was celebrated with an opening ceremony featuring an array of entertainment, including ice skating performances.
"We are proud to welcome the newest addition to our ever-expanding portfolio, Snow Oman. Entertainment plays an important role in the growth of the local economies, and the opening of Snow Oman marks another major milestone in our investment strategy in the Sultanate, as well as demonstrating our ongoing commitment to deliver innovative experiences for guests across the region," said Ignace Lahoud, chief executive officer of Majid Al Futtaim Entertainment.
"Entertainment not only impacts the local economy but provides us with a much-needed sense of community, and Snow Oman delivers a unique and immersive way for families to spend quality time together," he added.
The launch of Snow Oman follows the 2005 opening of Ski Dubai, the Middle East's first indoor ski resort in Dubai. Ten years later, the company expanded its footprint with the opening of Ski Egypt – the first-of-its-kind attraction on the African continent. The company established Global Snow in 2017 as an international brand that focused on designing, consulting on, managing, and opening indoor snow entertainment facilities.
Later this year, the company will continue the expansion of its portfolio with the launch of Snow Abu Dhabi in Reem Mall. The destination is scheduled to open in Q2 2023.