Modulaire Group acquires Mobile Mini UK to expand footprint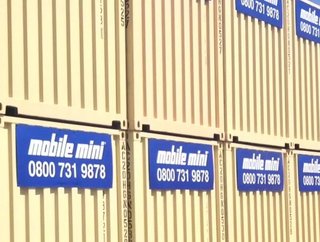 Transaction is expected to close in Q1 2023, company says, adding that no financial terms will be disclosed
Modulaire Group, the European specialist provider of modular services and infrastructure, has said that it has strengthened its UK presence with the acquisition of Mobile Mini UK, a provider of storage containers and site accommodations.
A subsidiary of WillScot Mobile Mini Holdings Corp, the company has a network of 16 locations across the UK and supplies steel storage and accommodation units across a number of sectors, including construction, retail, manufacturing, healthcare, and education.
Based out of Stockon-on-Tees in England, Mobile Mini UK has approximately 42,000 units, 375 employees, and an annual revenue of approximately ₤80 million.
The transaction, which is subject to UK regulatory approval, is expected to close in Q1 2023. No financial terms have been disclosed.
Modulaire has operations in 23 countries with over 290,000 modular space and portable storage units and 4,400 remote accommodation rooms. The company operates as Algeco, its largest brand, across much of Europe and the United Kingdom.
Other operating brands include Advanté in the United Kingdom, Altempo in France, Algeco Chengdong in China, Ausco and NET Modular in Australia, and Portacom in New Zealand.
The two organisations said that they are closely aligned in their values, with shared commitments to market leading health and safety standards, as well as equality, diversion and inclusivity.
Mark Higson, Group Chief Executive Officer of Modulaire Group, added: "Mobile Mini is a strong, strategic fit for Algeco and the combination of the two companies will drive significant value for both customers and stakeholders. It will help us further deliver the Algeco Vision to be the market leader in modular and temporary accommodation, operating as a trusted solutions adviser to customers.
Higson pointed out that there has been an expansion in container solutions, leading to strong growth over the last two years despite market conditions. He added that the acquisition will add strength to the Algeco organisation and will broaden and improve its services to customers.
Furthermore, he stated that the acquisition further demonstrates the Algeco commitment to its strategy, which is focused on its three core pillars of Environment, Social and Governance (ESG), with circularity, adaptability, and leasing at the core.
Tom Bruyea, Managing Director, Mobile Mini UK, added: "Mobile Mini UK has made tremendous progress over the past decade, which all our people should be very proud of. I'm certain that the business will continue to go from strength to strength under Algeco stewardship."
Future Expansion Plans
In the summer of 2022, the company said that it had successfully priced an incremental €140 million Senior Secured Term Loan B on a fungible basis to an existing €1,510 million Term Loan B due December 2028, through a private syndication process.
Proceeds are earmarked for future mergers and acquisitions, and to pay associated deal fees and expenses, it said at the time.
The company said that its revenue for July and August 2022 was €292 million, compared to €237 million for July and August 2021, an increase of €55 million, or 23%. Organic Revenue for July and August 2022 was €233 million, compared to €191 million for July and August 2021, an increase of €42 million, or 22%.
Modulaire Group is a portfolio company of Brookfield Business Partners, a publicly traded partnership and the primary public vehicle through which the Toronto-based Brookfield Asset Management owns and operates it business services and industrial operations of its private equity group.