Construction begins on world's largest LEGOLAND Resort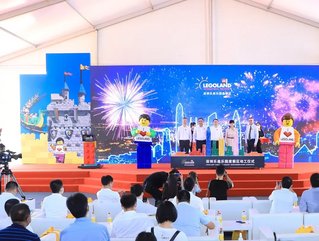 US$1.08bn LEGOLAND resort in Shenzen, China, will cover an area of 580,000sqm and will be launched in 2024
Merlin Entertainments, the UK-based entertainments company with a global presence, has announced the commencement of construction for the world's largest LEGOLAND Resort in Shenzhen, China.
Located on the Dapeng Peninsula, on the eastern edge of Shenzhen, the resort will be the first international IP-based family entertainment theme park resort in the Greater Bay Area, covering approximately 580,000 square metres. With a total project investment of more than $1.08 billion, the park will be operated exclusively by Merlin Entertainments, with Hazen Holdings as its local partner.
It is due to open in 2024, the company added.
"Construction of the world's largest LEGOLAND® Resort in Shenzhen marks a significant milestone for Merlin in China, reflecting the scale of opportunity in the country and our commitment to developing our business in China. This forms part of Merlin's broader strategy, alongside developing exciting attractions in partnership with some of the world's most popular brands.
"The Shenzhen LEGOLAND® Resort will be a must-see destination for millions of families looking to experience the magic of LEGO® in China. We have already had great success with our immersive LEGOLAND® attractions around the world and look forward to working with our partners to make the Shenzhen resort a reality," said Nick Varney, chief executive, Merlin Entertainments.
Merlin currently operates 13 Midway attractions in China, including four LEGOLAND® Discovery Centres, five Madame Tussauds, SEA LIFE Centres, The Dungeons, Peppa Pig World of Play and Little BIG City in Beijing.
Representatives from the Shenzhen Municipal People's Government, Dapeng New District, The LEGO® Group and Hazens Holdings were also present at the launch ceremony, which featured the arrival on site of 20,000 brightly coloured LEGO® bricks.
"The LEGO® brand has emotionally bonded with Chinese families during the past decades and contributed to create a positive impact on the development of the Chinese society with learning through play experiences. KIRKBI and the LEGO® brand are excited to bring LEGOLAND® Resort to Shenzhen this time, and we are looking forward to offering even more creative and imaginative experiences to Chinese families, to inspire and develop the builders of tomorrow," added Jorgen Vig Knudstorp, executive chairman of the LEGO Group.
Siegfried Boerst, general manager of the LEGOLAND® Shenzhen resort said that while the park would maintain the authentic LEGOLAND experience, it would also contain innovative designs, new themed areas, rides and immersive shows launched for the Chinese market.
"The LEGOLAND® Shenzhen Resort will integrate the history, culture and ecology of Shenzhen and China. It will also be a smart park, celebrating technological innovation, imagination and creativity in Shenzhen. The Resort will include a combination of indoor and outdoor play areas to account for the local climate.
"MINILAND, one of the core areas of all LEGOLAND® Parks, will be indoors to create a large, themed area with high-tech digital interactive experiences, while paying tribute to the beauty of Shenzhen and China through representative landmarks, cultural and everyday life scenes.
"In echoing local characteristics, we have also developed a live show exclusively for Chinese families, and the Resort will feature the world's largest LEGOLAND® theatre with more than 1,000 seats. Playful learning is a unique feature of all LEGOLAND Parks with educational interactive offerings such as creative robot workshops, the Driving School and the Rescue Academy which will all feature at the Shenzhen resort," he added.
The statement added that LEGOLAND Resorts also committed to sustainable development in all areas including environmental protection, in line with the 'ecological-based development strategy' of Dapeng New District.
"Hazens Holdings began life in the Shenzhen Special Economic Zone, and after over 20 years, we have grown into a full-scale commercial property developer, with presence in industries such as cultural tourism and medical care," said Yuan Fu'er, chairman of Hazen Holdings. "As the needs for family entertainment experience keeps growing, we're proud to be a key participant and pioneer in the market.
"We are honoured to collaborate with Dapeng District, Merlin Entertainments and the LEGO Group to build the first international IP-based theme park in the Greater Bay Area, establishing a one-stop destination for family entertainment."
Merlin currently operates nine LEGOLAND® Resorts in seven countries, including the most recent new openings in Dubai (2016), Japan (2017) and New York (2021), and has plans to open LEGOLAND Korea in 2022.