First residential development within Abu Dhabis Saadiyat Cultural District to commence in AED 1.25 billion deal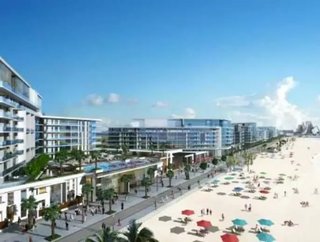 The Tourism Development & Investment Company (TDIC), master developer of major tourism, cultural and residential destinations in Abu Dhabi, announce...
The Tourism Development & Investment Company (TDIC), master developer of major tourism, cultural and residential destinations in Abu Dhabi, announced today that the construction of Mamsha Al Saadiyat, the first residential development within the Saadiyat Cultural District, is well underway. The project was awarded in April of this year to a joint venture between San Jose Contracting and Pivot Engineering & General Contracting, following a competitive tendering process. The contract is valued at AED 1.25 billion and the project is scheduled for delivery in the second half of 2018.
Mr. Sufian H. Al Marzooqi, TDIC's Chief Executive Officer, said: "We are pleased to see that Mamsha Al Saadiyat, one of the most unique residential projects on Saadiyat, is progressing as per schedule. Given its prime location on the beach of the Saadiyat Cultural District, it continues to drive interest from investors, and because of that demand, we are looking forward to releasing more residential units to the market in the near future, with plans to start leasing retail and F&B space to the market in Q4 of 2016."
Since the contractor's mobilization to site in May of this year, works have kicked off in full gear. Today, construction work is under way on the project's sub-structure. TDIC is closely monitoring the project's development with targeted milestones on schedule such as the completion of the basement and podium levels by the first quarter of 2017.
Amna Alalkeem Al Zaabi, Mamsha Al Saadiyat Project Manager at TDIC, said: "We are working very closely with our contractors to monitor advancement of work on the ground and ensuring it's all done to the highest standards."
Mamsha Al Saadiyat, a 1.4 kilometre beachfront mixed-use project, will feature nine low-rise residential buildings with a total number of 462 units. Out of 462 units, a total of 327 units will be one to four bedroom apartments ranging from 106 to 473 square metres in size. 78 will be lofts, and 47 will be two to three bedroom townhouses and garden units with some having a roof garden that offers direct access to the podium level. The residential project also has 9 five-bedroom penthouses which range from 1,055 to 1,099 square metres; each penthouse features a terrace with private swimming pool.
The complete project, which is being developed in phases, offers residents a luxurious beach-inspired lifestyle. The project, in addition to the apartments, encompasses a serviced-apartment building and a beach retail destination offering approximately 5,000 square metres of leasable area, for both retail and dining outlets with access to a 1.4 km promenade with specified walking and cycling paths, direct access to the beach, children's playgrounds, dedicated parking for both residents and visitors.
Mamsha Al Saadiyat is located in Abu Dhabi's future cultural hub, featuring three world-class museums designed by Pritzker Prize winning architects: Louvre Abu Dhabi, Zayed National Museum, and Guggenheim Abu Dhabi.
The residents of Saadiyat will be in proximity to a wide range of hospitality, leisure and retail offerings currently available on Saadiyat island such as The St Regis Saadiyat Island Resort & Spa, The Collection, the Saadiyat Beach Golf Club, Saadiyat Beach Club, in addition high-quality educational institutions including Cranleigh Abu Dhabi, the sister campus of the renowned UK-based Cranleigh School, and the New York University Abu Dhabi campus.
Follow @ConstructionGL
Read the August 2016 issue of Construction Global magazine