Google reveals plans for major San Jose campus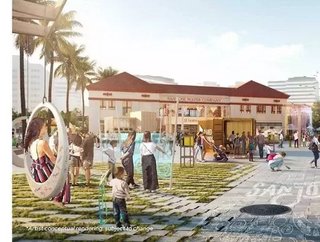 80-acre mixed-use facility will house 25,000 employees, contain 30 buildings and feature 4,000 housing units, as well as office, retail and public space...
Google has revealed plans for a vast 80-acre, mixed-use campus in downtown San Jose, California, which will house 25,000 employees.
The tech giant says that more than half of the 'Downtown West' project – which is being built in coordination with the city of San Jose – will also be allocated for residential and public space, with facilities such as childcare centres, outdoor movie screenings and ecological viewing stations.
The San Jose campus proposes 30 buildings and around 4,000 housing units, as well as office space for non-profits including YearUp and Tech Challenge, following a similar move by Facebook at its Menlo Park headquarters in 2018. The plan also includes amenities such as public maker spaces, retail spaces, a hotel and a performance area for live music, events, and movie screenings. Areas specifically for rotating food trucks to park and operate have also been proposed.
"Downtown West is designed to be a true part of the city - the opposite of a traditional corporate campus," lead urban designer Laura Crescimano says.
The announcement comes a year after the company filed its initial campus framework, which saw formal studies being launch, as well as community feedback discussions, adds Alexa Arena, Google's district lead of San Jose, in a . 
"Thousands of conversations helped us hone in to what we really want in a site, which was much less the corporate campus and the financial district and much more a resilient neighbourhood," she explains.
Plans for the campus follow a similar pattern to Google's new town-like campus in Mountain Views, California, which will convert 40-acres of Mountain View land into a mixed-use campus that is open to all residents. Silicon Valley companies such as Google and Facebook have begun departing from the traditional methods of designing campuses, which saw them closed off to the general public. The new designs aim to help attract millennial talent and appease residents in surrounding neighbourhoods, the company adds.
However, perhaps the most interesting aspect of the project is that it has been designed with the environment in mind. There will be at least 10 parks and several walking trails within the campus, while nearly all the site's buildings will run off solar and electric energy, Arena says. "Doing that is a huge step forward in our fight against climate change, which we can experience so acutely in Northern California today," Arena said. "We think this is a big innovation to get us there."
The proposal documents also state that the campus will have ecological systems viewing areas, which will help raise awareness of environmental issues. "If we can't have closer access to deep and immersive nature, we're not going to live the type of healthy and resilient lives we're after — there's a lot of literature on this," Arena says.
The company aims to make 65 percent of the campus accessible through bike, public transit, carpool, or foot, so as to reduce single car usage. It will also connect to what will be the country's largest transit station west of the Mississippi river, the plans show.
However, actual construction commencement for the Downtown West project is still a few years out, and there could still be changes made to the design, based on community feedback. The proposal will go to the city of San Jose for approval next spring.