Google's first UK headquarters receive approval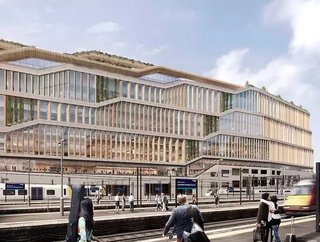 Google's £350mn UK headquarters has received the all-important go ahead by the local council.
 
 Camden Council have officially greenlit Goog...
Google's £350mn UK headquarters has received the all-important go ahead by the local council.
Camden Council have officially greenlit Google's new Kings Cross headquarters, the first wholly owned and designed Google building outside of the United States.
Construction on the 11-storey building, comprising of more than 1 million square feet, of which Google will occupy 650,000 sqft, will commence in 2018.
It will feature a three-lane, 25m-long pool and a massive landscaped roof, including a 200m running and walking track.
The building, designed by Heatherwick Studio and Bjarke Ingels Group (BIG) will also feature a natural theme, with all materials sourced through Google's healthy materials programme.
This new building, combined with the current building at 6 Pancras Square and an additional third building, will create a Google campus with the potential to house 7,000 Google employees.
Related stories:
Thomas Heatherwick said: "Strong support for an ambitious building in an important part of the city is more proof that London is not afraid of its future. We're excited to start building."
"As my home and the home of my studio for more than 15 years, I have a close relationship with King's Cross. The area is a fascinating collision of diverse building types and spaces and I can't help but love this mix of massive railway stations, roads, canals and other infrastructure all layered up into the most connected point in London."
Joe Borrett, Director of Real Estate & Construction, said: "We are excited to be able to bring our London Googlers together in one campus, with a new purpose-built building that we've developed from the ground up. Our offices and facilities play a key part in shaping the Google culture, which is one of the reasons we are known for being amongst the best places to work in the industry.