Ground breaks on Camden mixed-used development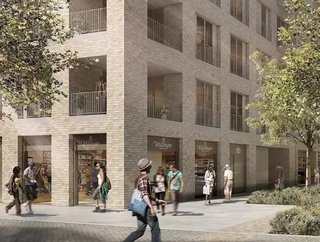 Mixed-use development in Camden, London, will contain 644 homes, Morrisons supermarket, offices, shops and cafes and create 780 construction jobs
St George, a member of the Berkeley Group, together with WM Morrison Supermarkets and Camden Council, have officially broken ground at Camden Goods Yard in north London.
Situated between Camden Town and Primrose Hill, the 8-acre brownfield site will be transformed into a mixed-use development with 644 open market and affordable homes, a rooftop urban farm alongside a new flagship 55,000 sq ft Morrisons supermarket, offices, shops and cafes, maker workshops, and a range of community facilities.
Camden Goods Yard will create an open and welcoming new part of Camden, offering a range of homes within landscaped gardens and courtyards. The development will also provide 183,000 sq ft of commercial space including 115,000sq ft of Grade A flexible office space and 6,000sq ft affordable workspace for SMEs.
Camden Goods Yard will provide three acres of new landscaped open space to support biodiversity. The largest area of public open space will be the Interchange Yard community space which will act as a focal point for the community with allotments, alongside three new public squares.
There will also be a rooftop urban farm which will comprise both a growing facility and a rooftop café-restaurant. These new community facilities also provide opportunities for delivering education and training on food and healthy eating.
With a commitment to deliver new jobs, the development will provide more than 780 jobs during construction, offer 73 apprenticeships and support more than 1,150 permanent jobs once the development is completed.
Piers Clanford, Divisional Managing Director for St George, said the groundbreaking represents a significant milestone in the regeneration of the Camden Goods Yard and will bring "a wealth of new jobs and opportunities" to the borough. 
David Potts, CEO of Morrisons, said it has been working hard over the last four years to get to this point. "It feels like a pivotal moment to be breaking the ground at the site along with our partner, St George, and Camden Council. We hope that the regeneration of this brownfield area and our development of a new flagship Morrisons store will create a positive extension to the already vibrant Camden community." 
London's first purpose-designed home for the creative industries, Design District, officially opened yesterday on the Greenwich peninsula. Conceived by Knight Dragon, the project targets creatives and remote workers with flexible and affordable workspaces (click here). Features include Canteen food outlet, Basketball Court rooftop area, NOW Gallery, The Tide elevated park, sculptures by leading artists such as Damien Hirst, and Bureau, a members' club for the creative industries.