Largest residential construction package in New York agreed for Waterline Square development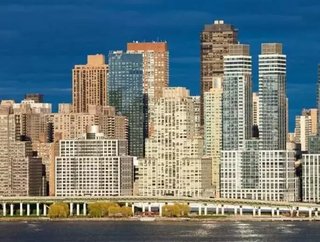 GID has announced the closing of the largest residential construction financing of the year, for Waterline Square, its three-building luxury residential...
GID has announced the closing of the largest residential construction financing of the year, for Waterline Square, its three-building luxury residential development now under construction on Manhattan's Upper West Side along the Hudson River.
The $2.3 billion total package is believed to be the largest for a residential construction project ever in New York City's history, consisting of equity investments from the development's ownership team of GID and the Henley Holding Company, a wholly-owned subsidiary of the Abu Dhabi Investment Authority, and a $1.243 billion construction financing provided by a bank syndicate led by Wells Fargo as Administrative Agent along with co-lead arrangers HSBC, National Bank of Abu Dhabi, and JP Morgan. 
The New York and Boston teams of HFF had an advisory role on the financing arrangement.
Designed by three world-renowned and award-winning architects including Richard Meier & Partners Architects, Viñoly Architects, and Kohn Pedersen Fox Associates,Waterline Square encompasses nearly five acres and will be located in Manhattan along the Hudson River from West 59th Street to West 61st Street, where Midtown meets the Upper West Side. Photo Credit: Noe & Associates with The Boundary
James Linsley, President of GID Development Group said, "This financing package reaffirms our confidence in this unique Manhattan waterfront development and our design and development team's ability to create the most innovative, comprehensive, and cohesive residential experience in New York City.
The combination of amazing location, unprecedented amenity program, new park and open spaces, outstanding views, along with a collection of three of the world's most celebrated architects will position Waterline Square at the forefront of New York City's truly great development endeavors and luxury residential offerings."
Three world-renowned and award-winning architects were commissioned to design an iconic collection of three luxury residential and mixed-use buildings, which will be set upon a beautifully landscaped park spanning approximately 3 acres, all of which will be developed and completed simultaneously. 
Waterline Square is being developed on the last remaining waterfront sites on Riverside Boulevard and will complete this waterfront neighbourhood master plan vision that has been underway for more than two decades.
Each of Waterline Square's newly constructed buildings will be residential, featuring luxury condominium residences that crown each tower with sweeping views of the Hudson River and Manhattan skyline. The entire development boasts more than 100,000 square feet of best-in-class sports, leisure, and lifestyle amenities among the three towers, as well as a new landscaped park and open spaces at the heart of the development. 
Follow @ConstructionGL
Read the December 2016 issue of Construction Global magazine.