Plans unveiled for £5bn North London development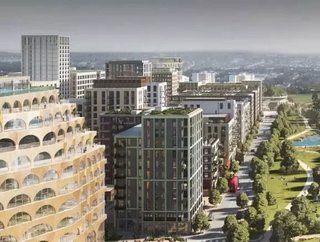 Brent Cross Town will have 6,700 homes, 3m sqft of office space and 50 acres of parkland...
Argent Related and Barnet Council have unveiled plans for Brent Cross Town - a £5 billion North London neighbourhood covering 180 acres.
Enabling infrastructure works for the development, set to be 'a new park town' for London and establish a new standard for large-scale urban regeneration, is underway with the first phase of the 6,700 homes and 3m sqft of offices aiming to open by 2024.
It will transform the area into an 'inclusive, accessible town centre that will evolve to support the changing demands of modern life in a post-COVID world', according to a statement. It will also contribute to London's green economy recovery as it will have sustainability, health and wellbeing at its core.
"This is an exciting moment for us and our partners at Barnet Council. After several years of careful thought and planning it is a real privilege to set out our vision for Brent Cross Town, a park town that will support the future of London. We will demand the highest commitments to health and wellbeing, sustainability and ensuring flourishing and connected communities. With so many aspects of our society undergoing change, we will strive to ensure that Brent Cross Town meets the evolving needs of people, business and the environment," says Nick Searl, Partner of Argent Related and Joint-Lead for Brent Cross Town. 
Previously known as Brent Cross South, the new development will incorporate offices containing 25,000 employees from a broad spectrum of sectors. Brent Cross Town also aims to be a new hub in the capital for state-of-the-art sports and leisure facilities. Restaurants, retail including local amenities and services, leisure, culture, and events will add to the vibrancy of the area. 
It will also meet the needs of students with student accommodation and the redevelopment of three local schools. The town centre will connect to King's Cross in 12 minutes via the new Brent Cross West station, which will be completed by end of 2022.
"By combining our global development experience and local insights, Argent Related will set new standards of urban regeneration on this scale. We are establishing an ambition for a thriving new town centre that will both inspire and pioneer future ways of living and working and, importantly, one that will stand the test of time and the market's cycles," says Ken Wong, COO and director of International Development Related.
Partnering with Manchester University and Buro Happold, this approach represents a landmark moment in designing a development for mental health and wellbeing and demonstrates that Brent Cross Town is at the forefront of people-centred design.
Argent Related is making four significant pledges for Brent Cross Town:
To create the place in London to participate in sport and play: with 150,000 sq ft of indoor facilities and 50 acres of parks, Brent Cross Town will provide the best of both traditional and emerging sports, working with leading sports organisations, governing bodies and hero ambassadors to help drive female participation and champion diversity and inclusion.
To make a new North London town where all can flourish. Brent Cross Town will launch a Flourishing Index which will pioneer the measurement of how individuals and communities flourish in a town centre. 
3. To be a net zero carbon town by 2030 at the latest. This will be achieved by driving down the embodied carbon in buildings and
infrastructure, the carbon used in energy supply and offsetting the remainder. Partnering with Vattenfall, Brent Cross Town will
deliver reliable and affordable zero carbon heating to homes, shops, and businesses.
4. To strengthen existing connections, both locally and into Central London, connecting businesses, customers, friends, and family.
Brent Cross Town is in an enviable location – 12 minutes to Central London, immediate access to the M1 and 5 major airports within
one hour. Locally, new pedestrian and cycle routes will integrate Brent Cross Town with its surrounding communities.
"In partnership with Argent Related we are creating a new town for Barnet. Connected by the new Brent Cross West Station and with an ambition to create 25,000 jobs, excellent schools, and world-class facilities, Brent Cross Town will ensure our new and existing communities thrive," says Daniel Thomas, leader of Barnet Council.
"The protection and enhancement of acres of existing green space provides the unique opportunity to create an area that has health, wellbeing, and sustainability at the heart of its design. Brent Cross Town is the most ambitious development project the borough has ever seen, and it comes at a time where the coronavirus has changed the way we think, feel and what we want from the place we call home; we have a once in a lifetime opportunity to respond to changing needs and attitudes and build a place that is truly fit for the future."