RSG appoints Reem Emirates Saudi to build RSI Airport roof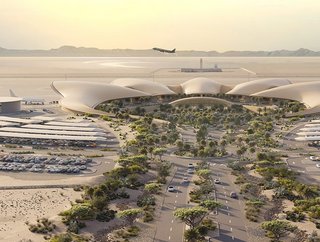 Reem Emirates Saudi will construct the façade and roof shell of the Red Sea International Airport's landside facilities with a sustainable design
Red Sea Global, the developer behind the ambitious regenerative tourism destinations of The Red Sea and AMAALA in Saudi Arabia, has announced the appointment of Reem Emirates Saudi to construct the façade and roof shell of the Red Sea International (RSI) Airport's landside facilities.
Sustainable aviation and construction
In a statement, RSG said that the airport has been designed to include shaded areas and natural ventilation that will minimise the reliance on air conditioning. It will feature five mini-terminals, which will allow areas to be closed during periods of slower activity, thus curbing the need to air condition all sections and waste energy.
"Red Sea International will set new standards in sustainable aviation, and the ongoing construction works are a critical part of building that legacy. This requires experienced partners who share our vision for doing things better," said John Pagano, Group CEO of RSG. "Not only is the airport sustainably designed, but aesthetically it takes inspiration from the forms of the surrounding desert, the green oasis, and the sea. The roof shell, which Reem Emirates Saudi will deliver, typifies this, with dune-like pods radiating out from the centre, providing an arresting welcome as guests first arrive to The Red Sea from above."
The entire airport will be run by renewable energy, supporting RSG's ambition to usher in a carbon neutral, net-zero era for airport designs and operations, he added.
Revolutionising airport construction
Reem Emirates Saudi will adopt innovative, energy-efficient, and environmentally friendly solutions throughout the façade design, structural engineering, manufacturing, and installation processes, aligned with industry-leading Leadership in Energy and Environmental Design (LEED) certification, said Naser Al Marzooqi, the general manager of the company.
"Our partnership with RSG marks the start of an exciting chapter in revolutionising airport offerings, while closely aligning with the strategic goals of Vision 2030. We are excited to bring our in-depth knowledge and local expertise to the project and hope to see such world-class standards of sustainable airports become more widespread throughout the region," he stated.
RSI has been designed by international architecture firm Foster + Partners. The project is on track to welcome its first passengers in 2023, with capabilities to serve an estimated one million domestic and international tourists per year by 2030 – at a peak of 900 travellers per hour.